As an Amazon Associate, I earn from qualifying purchases.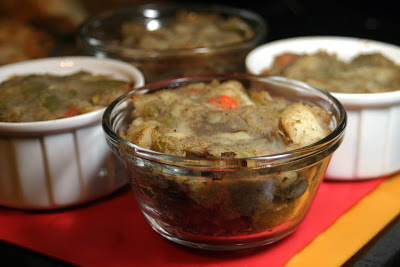 Day 174.
This week we didn't have a lot of leftovers. The Stone Fruit Empanadas went so fast I wish I'd made more. The Chicken Green Bean Casserole started a few fights among the kids and their father over who could eat the leftovers. The Samosas were so delicious and I originally made enough filling to make another batch later. But I decided I'd use the filling for our leftover recipe instead. Samosa Shepherd's Pie, anyone? Yum.
Samosa Shepherd's Pie
Ingredients
1 cup Ground beef substitute
1 cup Samosa Filling
Directions
Preheat oven to 400.
Use a 1/4 cup measuring cup to scoop a 1/4 cup ground beef into each of four ramekins. Top with 1/4 cup samosa filling. Bake for 15-20 minutes. Set oven to broil and bake for an additional 3-5 minutes until potatoes are golden brown.
The Results
This is pretty good. But, I think them in samosa-form better. I've never been terribly fond of shepherd's pie in general. I thought this might make me love it. It didn't.
Project Food Budget:
Spent $80 at the wholesale club this week, about $5 over budget for the week, but we also bought 25 pounds worth of flour. So, I think we're doing fine. Still a tad under our $300 monthly budget with a week to go. We should be able to make it.
Goal: $75/$300
Actual: $80/$271
Participating Blogs:
This post is shared with Simple Lives Thursday, Tip Day Thursday, Frugal Food Thursday, Recipe Swap Thursday,Recipes I Can't Wait to Try, Things I Love Thursday, It's a Keeper, Full Plate Thursday, Grocery Cart Challenge, Cooking Thursday and Ultimate Recipe Swap.
The Super Easy Vegetarian Slow Cooker Cookbook
Want vegetarian and vegan recipes you'll love? Check out my first cookbook! I'm so excited about it and I hope you'll love it. You can find more information about it right
HERE
.