As an Amazon Associate, I earn from qualifying purchases.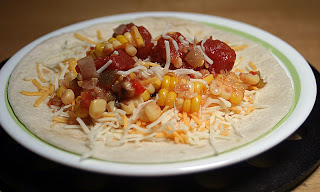 Day 344.
After opening up my pint of Roasted Corn Salsa for Roasted Corn Salsa salad yesterday, I knew I'd be in for a few other corn salsa treats this week. Today's creation is a simple favorite for the kids: Roasted Corn Salsa Quesadillas. Quesadillas are definitely are go-to food for the kids in a pinch. They will eat nearly anything inside a quesadilla. I love that about them. It also gives my husband and I the opportunity to eat messy things while keeping their food fairly contained.
Roasted Corn Salsa Quesadillas
Ingredients for 4 quesadillas
Directions
Lay four tortillas on a sprayed or greased griddle (or one at a time in a pan). Top with 2 tablespoons cheese and 1/4 cup salsa per tortilla. Top with remaining cheese and remaining tortillas. Grill over medium heat for about 3 minutes per side, or until golden brown. Serve with more salsa and sour cream for dipping, if desired.
The Results
Unsurprisingly, the kids loved these. My husband and I thought they were pretty tasty, too. And, maybe more importantly during the holiday season (which also includes both my birthday and my husband's), it's an incredibly fast meal to get on the table.
This post is shared with What's for Lunch Wednesday , Gallery of Favorites, Simply Delish and Muffin Tin Monday.
The Super Easy Vegetarian Slow Cooker Cookbook
Want vegetarian and vegan recipes you'll love? Check out my first cookbook! I'm so excited about it and I hope you'll love it. You can find more information about it right
HERE
.