As an Amazon Associate, I earn from qualifying purchases.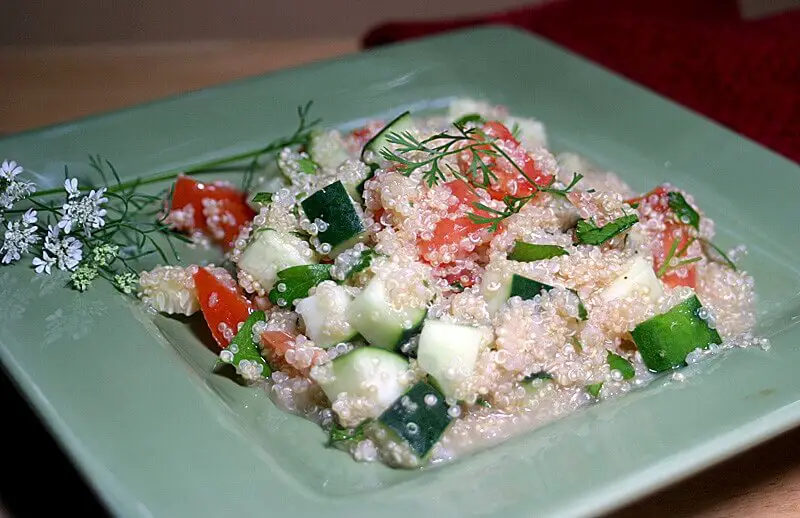 Mmm…cucumber tomato salad, delicious! As you may know, one of my favorite blogs to explore (even though it's sometimes "meaty") is Beyond the Peel. France has a great site full of whole living resources and excellent recipes.
Even if it's a recipe that's pretty dependent on meat, France's creative recipes nearly always spark some veggie ideas in my head. I recently received France's cookbook, The Whole Food Revelation, to review and I couldn't be more pleased.
I've been participating in Get Real, which is a year-long program aiding in the transition to whole foods. France's book is pretty similar, but instead of a year, it's a four-week crash course in eating well.
France outlines the recipes, and even the grocery lists, for four weeks of dinners and leftover possibilities. And the best part? (For me at least.) Is that she includes both meatier and vegetarian options for each meal. How cool is that?
If it's a meatless salad, and you're a meatatarian, France lets you know what meats go well with the dish. If it's a slab o' meat and you're a vegetarian, France gives vegetarian options including recipe adjustments and cooking instructions for vegetarianize it.
So cool. I fully intend to make each vegetarianized meal in the book and I may even go crazy and help the Meat-eating Hubby make a few of the "normal" dishes, too. But the first dish we just HAD to try was France's Quinoa Salad. We made a couple of tiny adjustments to suit our pantry and our preferences, but it's pretty close to the original. We all LOVED it, and it was a great quick and easy weeknight meal.
We were able to use fresh cucumber and tomatoes from our CSA box and a batch of already-made Soaked Quinoa, so this meal was extra frugal, delicious and simple. Oh! And for you meatatarians, the original recipe in France's book is served with marinated grilled North African spiced chicken. But, for the vegetarians, no need to add a protein, because the quinoa has all you need!
Quinoa Cucumber Tomato Salad
Adapted from The Whole Food Revelation.
Ingredients
3 cups cooked quinoa (about 1 1/2 dry)
2 tablespoons olive oil
2 tablespoons fresh lemon juice
2 tablespoons garlic, minced (I used roasted garlic)
1 English cucumber, diced
2 medium tomatoes, seeded and diced
1 handful of parsley, chopped
1 handful of cilantro, chopped
1 tablespoon cumin (or to taste)
salt and pepper, to taste
Method
Place all ingredients in a bowl and toss until well coated. Season to taste.
The Results
Fantastic! This is a definite repeat. Everyone loved it and it was so incredibly easy to throw together for a last-minute weeknight meal. Delicious.
This post shared at Gallery of Favorites, Fresh Bites Friday, Friday Favorites, Frugal Fridays and I'm Lovin' It.
The Super Easy Vegetarian Slow Cooker Cookbook
Want vegetarian and vegan recipes you'll love? Check out my first cookbook! I'm so excited about it and I hope you'll love it. You can find more information about it right
HERE
.