As an Amazon Associate, I earn from qualifying purchases.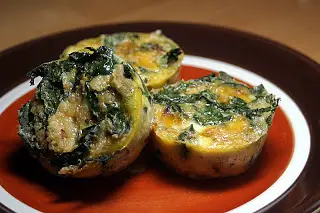 For a pre-St. Patty's Day special, I posted the very green Quinoa and Kale Mini Quiches today adapted from Quinoa and Kale Crustless Quiche. I made them mini quiches because the kids love miniaturized things. But I have a bit of a confession to make: I hate quiche. A lot. I know a lot of people love them. And I really TRIED to like them. It seems like something I should like, right? So I thought I'd give it another chance with this delicious sounding filling of quinoa, cream cheese, kale and perfectly caramelized onions. Plus, I try to be fair to readers over who probably like things that I don't like; like quiche and celery, by sometimes sucking it up and making things I'm not so fond of. Luckily, the filling on its own was fantastic.
The Results
The quiche failed me again. I'm just not a big fan of eggs, so once the filling is topped with eggs and baked, I just don't care for it. The kids and I gobbled up some of the filling, but ended up giving away the mini quiches to neighbors who are a bit more quichey people than we are. The kids picked at theirs a bit; I'm sure my stinky face didn't help. But, I feel better for having experimented with quiche once again.
This post shared at Gallery of Favorites, Fresh Bites Friday, Friday Favorites, Frugal Fridays and I'm Lovin' It.
The Super Easy Vegetarian Slow Cooker Cookbook
Want vegetarian and vegan recipes you'll love? Check out my first cookbook! I'm so excited about it and I hope you'll love it. You can find more information about it right
HERE
.