As an Amazon Associate, I earn from qualifying purchases.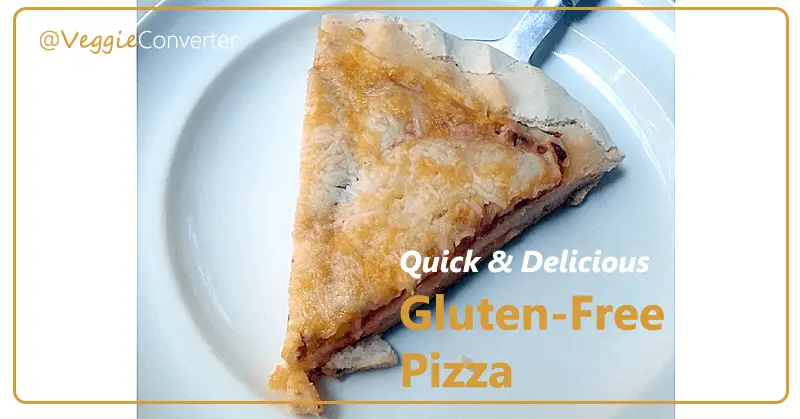 So, sadly, Goose and I can't eat gluten anymore. So we've been forced to make our own gluten-free pizza crust version at home. Trouble is, Goose is also allergic to dairy. So we really can't do a cardboard crust. It has to be delicious particularly for Goose since it's not topped with ooey gooey cheesiliciousness. I'm so incredibly happy I stumbled across an absolutely fantastic gluten-free pizza crust recipe from Minimalist Baker.
It's an incredibly simple recipe that I altered just the slightest bit to suit our needs—primarily the swap from sugar to honey, but also using an all-purpose blend rather than adding baking powder. Additionally, to accommodate my IDontWannaStandAroundInTheKitchenitude, I made my dough in the bread machine before transferring it to a pan to bake. If you want standard directions, please go visit Minimalist Baker's lovely site.
Gluten-Free Pizza Crust Recipe
Makes 1 large pizza, 8 slices
Ingredients
3 cups gluten free flour blend
1 teaspoon Kosher salt
2 tablespoons honey
1 tablespoon yeast
1 1/4 cup warm water
1 tablespoon olive oil
Method
Place all ingredients in bread machine on dough cycle. This dough doesn't require rise time, so you can take it out as soon as it's mixed.
Preheat oven to 350 degrees Fahrenheit. Bake crust alone for 30 minutes at 350.
Remove from oven, top with sauce, meats and veggies and (if desired) cheese.
Return to oven and bake another 15-20 minutes at 350. Remove from oven, cut immediately and serve.
Our pizza looked like this:
1/2 cheese without meat
1/4 cheese and meat
1/4 meat without cheese
Yeah, that's how this blended-eater family rolls, baby! Goose loved her cheeseless meaty pizza (she picked salami as her topping) and I loved my meatless cheese. Bug scarfed down her meat and cheese combo. Win-Win-Win. They actually asked me to make another one that very night! Super amazing win, right? The crust was thick and fluffy and I absolutely LOVED it.
In fact, I loved it so much, I scarfed it down before it was cool enough for human consumption and burned the roof of my mouth. Luckily a little Thieves essential oil fixed that right up once I stopped stuffing my face. 🙂 It was better than some "real" wheat crusts I've had. I absolutely without hesitation recommend you try this one. Delicious!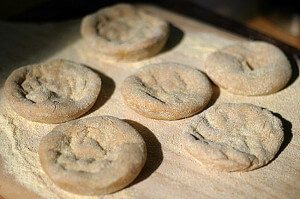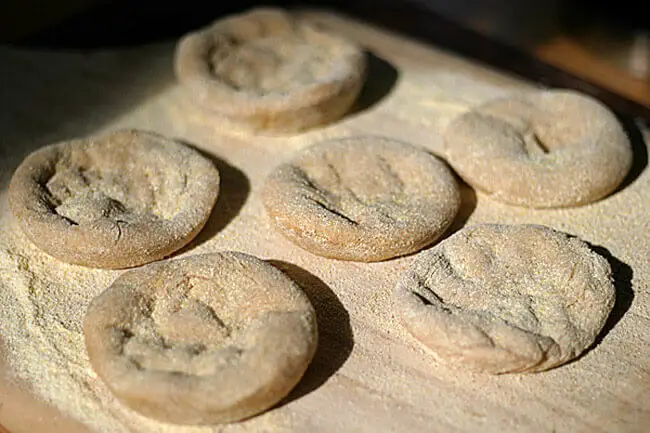 The next time we made the pizza, we went with minis made in our USA Pan bun pan! Love that pan. We made them the same way as these, Mini Frozen Pizza Crusts. We baked them for about 30 minutes total at 350. We saved several for school lunches!
What's your favorite pizza recipe?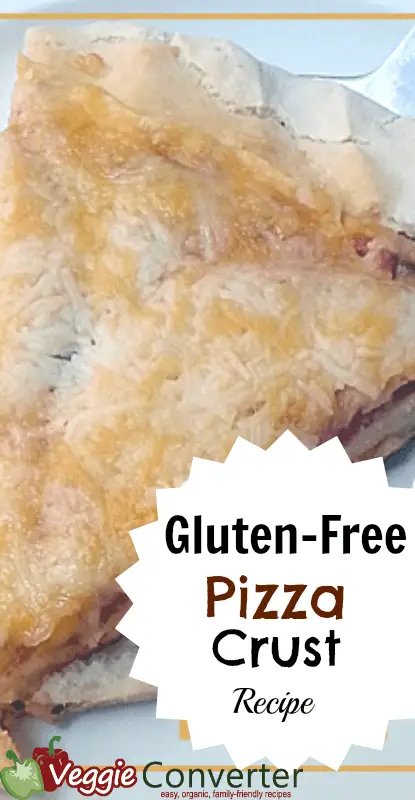 Related Posts:
The Super Easy Vegetarian Slow Cooker Cookbook
Want vegetarian and vegan recipes you'll love? Check out my first cookbook! I'm so excited about it and I hope you'll love it. You can find more information about it right
HERE
.