As an Amazon Associate, I earn from qualifying purchases.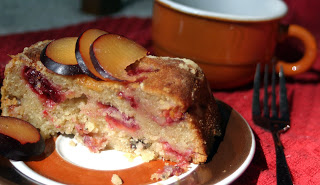 Day 163.
Peach and plumcot ricotta pound cake, yum!! The way my sister and I were raised, we didn't really have a ton of sweets around the house. We thought of graham crackers as "cookies" and didn't have sugary cereals and the like. A lot of our friends in college thought we were looney when we referred to our version of "sweets" and our lack of knowledge of sugary treats.
Needless to say, I'm thankful for being raised with a healthy nutritious diet. I never really crave a ton of sweet things and I plan to raise our kids similarly when it comes to food.
So Bug's first birthday was her very first introduction to sugar. She'd never had it before. On that day, she had a carrot cake with lightly sweetened cream cheese frosting. She thought it was awesome. She also spent the entire afternoon treating her puzzle mat in the basement like a racetrack. It was hilarious, and a little creepy. It made me glad her little tiny heart hadn't had a lot of sugar before. So, on her second birthday, she had another less-than-traditional birthday cake. I made a Clementine Poundcake, similar to this cake. It. Was. Awesome. We all loved it. I've never had anything like it.
So, when we received peaches and plumcots in this week's CSA box, I just had to try another poundcake. I added ricotta this time. Just because it sounded yummy.
Peach and Plumcot Ricotta Pound Cake
Ingredients
4 plumcots
1 peach
1 tablespoon sugar
1 tablespoon lemon juice
3/4 cup butter (1 1/2 sticks), softened*
2 tablespoons olive oil
1 cup whole milk ricotta cheese*
1 1/4 cup sugar
1/4 cup brown sugar
3 large eggs*
1 3/4 cup flour
1/2 teaspoon salt
1 1/4 teaspoon vanilla extract
1 teaspoon ground cardamom
*Vegan Converter
3/4 cup margarine
1 cup tofu ricotta
3 "eggs" of egg replacer
Directions
Preheat the oven to 350F. Grease and flour a 9x5x3″ loaf pan. Pit and dice plumcots and peach. Heat over medium heat in a sauce pan. Add lemon juice and tablespoon of sugar. Cook for about 5-10 minutes, just enough to break down the fruit a bit and release the sugars.
Meanwhile, beat the butter, oil, ricotta and sugars together in a mixer until smooth.
Mix in the eggs until completely blended.
Remove peaches and plumcots from heat and mash to about the consistency of a chunky chutney.
Stir in 1 cup of the flour to the mixer as well as the salt, vanilla, cardamom, plumcots and peaches. Add the rest of the flour. Beat until the batter is smooth and consistent.
Pour the cake batter into the prepared pan.
Bake for 1 hour to 1 hour and 15 minutes, or until the edges are browned and pulling away from the sides of the pan and a toothpick comes away clean.
Top with sliced fruits, if desired, and serve.
The Results
Drool. This is so incredibly good. I love the little pockets of tart plumcots and sweet peaches dispersed throughout the cake. And the ricotta really does make everything extra rich and creamy. Yum. And, bonus, it's so pretty with those little orange and deep red flecks.
What are you having for Sunday Brunch, Breakfast or Lunch?
This post is shared at·Sundays at One Food Club, Just Something I Whipped Up, Penny Worthy Project, Cookbook Sundays, Savory Sunday·and·Potluck Sunday.
The Super Easy Vegetarian Slow Cooker Cookbook
Want vegetarian and vegan recipes you'll love? Check out my first cookbook! I'm so excited about it and I hope you'll love it. You can find more information about it right
HERE
.