As an Amazon Associate, I earn from qualifying purchases.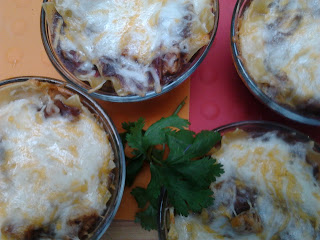 Day 144.
I found an awesome recipe at Debbi's site this week, no surprise there. I originally intended to make a veggie version of her fabulous-sounding Chicken Enchilada-Stuffed Shells. But, of course, the shells I thought I had in the pantry turned out to be lasagna noodles. I debated about heading to the store and then I thought I'd just make a Chicken Enchilada-flavored lasagna instead. That recipe idea then morphed into these Mini Mexican Lasagnas. You should definitely try Debbi's recipe, too. It was a delectably inspiring recipe.
Mini Mexican Lasagnas
Adapted from Chicken Enchilada-Stuffed Shells.
Ingredients
6 lasagna noodles
1/2 cup red onion, diced (about 1/3 of a red onion)
1 bell pepper, diced (About 3/4 cup, I used orange)
1 10 oz. can Rotel tomatoes and chiles with habanero peppers (use regular Rotel if you're not a spice-lover)
1 cup black beans, refried
1 tablespoon taco seasoning
2 cups "chicken" or tofu, cubed
2 cups Mexican cheese, shredded
Directions
You will need 6 ramekins or baking-safe dishes for this recipe.
Preheat oven to 375. Boil noodles until partially cooked, but still somewhat firm, about 5 minutes. Meanwhile, cook onion and pepper with a bit of olive oil in a small saucepan.
Add Rotel, refried black beans and taco seasoning. Add "chicken" or tofu cubes.
Spray ramekins with cooking spray.
Cut noodles into thirds and place one piece in each ramekin/dish. Add a layer of filling and a layer of cheese. Top with another noodle segment. Repeat with remaining layers until reaching final noodle. Top final noodle with sauce from filling and more cheese.
Place ramekins on a cookie sheet and bake at 375 for 15-20 minutes or until cheese is bubbly.
Results
Wow. It's nice and spicy and super delicious. This is definitely a kid-friendly recipe. The bug thought it was "so cool" to have her own little dish. She handled the spiciness fine, but it might be a bit much for most kids. A can of regular Rotel with diced jalapenos added to the parents' ramekins would be a great compromise.
What's your favorite recipe inspired from something completely different?
This post is shared at·Tuesdays at the Table,·Slightly Indulgent Tuesday,·Tasty Tuesday, Delectable Tuesday,·Tempt My Tummy Tuesday,·Delicious Dishes,·Real Food Wednesday, Recipe of the Week, Hearth and Souland Tasty Tuesday.
The Super Easy Vegetarian Slow Cooker Cookbook
Want vegetarian and vegan recipes you'll love? Check out my first cookbook! I'm so excited about it and I hope you'll love it. You can find more information about it right
HERE
.