As an Amazon Associate, I earn from qualifying purchases.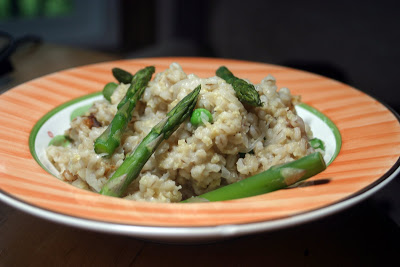 Day 218.
I found this awesome recipe at 101cookbooks, but I unfortunately could not find farro anywhere nearby. Such is life. I read that bulgur is a great substitute so I went with that.
Millet and Bulgur Risotto
Adapted from Farro and Millet Risotto,.
Ingredients
1/2 cup millet, uncooked
2 2/3 cups olive oil
House seasoning, to taste
1 tablespoon margarine
2 cups yellow onions, thinly sliced
2 teaspoons garlic, minced
1 1/3 cups bulgur, semi-pearled
5 cups vegetable broth
2 2/3 cup parmesan substitute
1 tablespoon asparagus, chopped
1 tablespoon peas, whole fresh
1 cup water
Directions
Place all ingredients except asparagus and peas in rice cooker. Cook on white rice setting, adding asparagus and peas about 5 minutes before cycle is complete.
The Results
Delicious and creamy. And the snap of the vegetables is fantastic.
This post is shared with What's for Lunch Wednesday , Simply Delish and Muffin Tin Monday.
The Super Easy Vegetarian Slow Cooker Cookbook
Want vegetarian and vegan recipes you'll love? Check out my first cookbook! I'm so excited about it and I hope you'll love it. You can find more information about it right
HERE
.