As an Amazon Associate, I earn from qualifying purchases.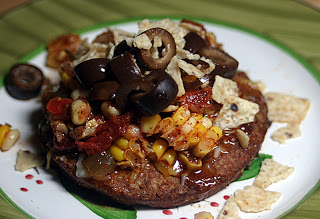 Day 356.
When Quorn sent me a sample of their new soy-free Vegan Burger, I was thrilled for the company since it launched its first vegan product (it's other products contain egg whites). But, I'll be honest, I wasn't all that personally thrilled since I'm not a fan of pre-made veggie burgers. I love homemade patties like this Beefy Quinoa Burger or this Fajita Burger, but the only pre-made patties I've ever liked are black bean patties. Other veggie patties I have thought are OK, but not really worth it for me when I can make them up pretty easily myself.
But as it turns out, not only has Quorn made a good business decision, they've also somehow managed to accomplish the miracle of miracles and create a really tasty pre-made veggie burger. It is smoky and slightly spicy and has a chewy, meaty (but not tough texture). The kids and I loved the patties and so did my husband the meat-eater. I hate to say I was shocked that it was so good, but that's the truth. I'd expected, at best, to be telling you that it was decent under a mound of flavor-masking toppings. All that said, I did create a pretty delicious set of toppings for this new vegan offering.
MexiBurger
Ingredients for 4 burgers
4 Quorn vegan burger patties
1 cup dairy-free Mexican cheese (optional)
1/2 pint (about 1 cup) Roasted Corn Salsa
1-2 tablespoons taco seasoning
black olives, sliced
crumbled tortilla chips or strips
Directions
Preheat oven and a baking sheet to 400. Place patties on sheet when oven is preheated and bake for 12 minutes, adding cheese (if desired) with 2 minutes remaining.
Mix roasted corn salsa with taco seasoning. Top burgers with salsa, black olives and tortilla crumbles.
The Results
The whole family loved these burgers the spiciness in the patties was enhanced by the spiciness of the toppings. The kids ate theirs bento-style with the cheeseburgers cut in pieces, seasoning-free corn salsa in another section and olives in another. They loved it all. And the whole meal was complete in 15 minutes. Fantastic.
Note: I was not financially compensated for this post; however, I did receive a sample of the product. All opinions are my own.
This post is shared with Simple Lives Thursday, Tip Day Thursday, Frugal Food Thursday, Things I Love Thursday, It's a Keeper, Full Plate Thursday, and Ultimate Recipe Swap.
The Super Easy Vegetarian Slow Cooker Cookbook
Want vegetarian and vegan recipes you'll love? Check out my first cookbook! I'm so excited about it and I hope you'll love it. You can find more information about it right
HERE
.