As an Amazon Associate, I earn from qualifying purchases.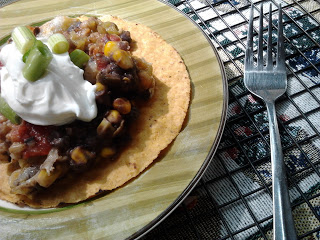 Day 102.
On today's menu is a vegetarian Mexican casserole. Taco Tuesday! Ole! I have an obscene amount of leftover refried black beans from an overzealous black bean cooking experience a couple weeks ago. I bought about 4 pounds of dried beans and converted about a pound of those crock-pot soaked and cooked beans into refried beans. I also threw in a bit of leftover ranchero sauce.
I planned to serve these with homemade tortilla chips. But, well, you know how I am about frying, right? I just didn't feel up to it today. We were struck by the flour fairy last night (the Bug can open up the cabinet locks and decided that 10 pound bag of flour needed to be dispersed with flair) so I was a tad exhausted. It took a lot to school my mirthful face into stern mommy look while taking photos for her daddy to enjoy. My mirth dimmed a bit when I saw the flour fairy's aftermath in the kitchen and her little sister eating fistsful of the fairy dust. Regardless, we went with tostadas instead. Good times.
La Bamba Mexican Casserole
Adapted from La Bamba Mexican Casserole.
Ingredients
7 oz. can chopped green chilies
Cooking spray
1 pound ground beef substitute
1 large onion, chopped
2 teaspoons chili powder
½ teaspoon ground cumin
¼ teaspoon salt
(I actually subbed our homemade Taco Seasoning for the spices)
2 garlic cloves, minced
1 15 oz. can diced tomatoes, undrained
2 C corn
2 C refried black beans
1½ C (6 ounces) shredded Mexican cheese
1 C chopped tomato
½ C chopped green onions
Directions
Preheat oven to 375°.
Spray 9 x 13 in pan with cooking spray. Spread green chilies over the bottom of the pan.
Heat a large pan coated with cooking spray, add ground "beef," onion, chili powder, cumin, salt, and garlic; sauté until cooked. Add diced tomatoes and refried beans; cook 5 minutes or until some of the liquid evaporates.
Spoon "beef" mixture over chiles. Top with corn. Sprinkle cheese over beans. Bake at 375° for 30 minutes. Let stand 5 minutes; top with chopped tomato and green onions.
Results
Mmm….we served ours over tostadas and it was fantastic! It was like dip on a tostada. Yum. I love the mix of veggies and the cheesy gooey delicious bean and beef salsa "layer." This is a lot like 7-layer Mexican dip if you top it with sour cream and guacamole. So good.
This post is shared at·Tuesdays at the Table,·Slightly Indulgent Tuesday,·Tasty Tuesday, Delectable Tuesday,·Tempt My Tummy Tuesday,·Delicious Dishes,·Real Food Wednesday, Recipe of the Week, Hearth and Souland Tasty Tuesday.
The Super Easy Vegetarian Slow Cooker Cookbook
Want vegetarian and vegan recipes you'll love? Check out my first cookbook! I'm so excited about it and I hope you'll love it. You can find more information about it right
HERE
.