As an Amazon Associate, I earn from qualifying purchases.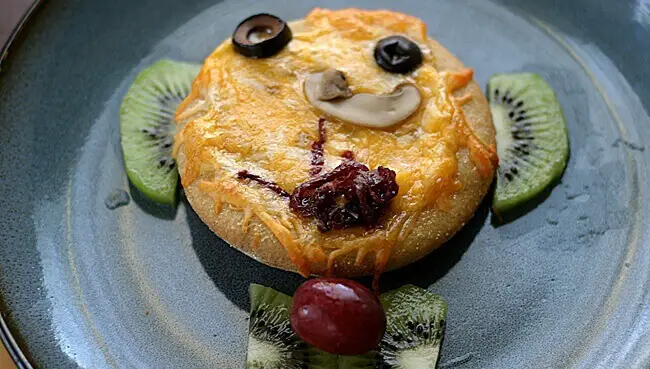 We found this crazy book at a garage sale a couple of years ago, called The Outrageously Big Activity, Play and Project Book. It's a British import so there are a lot of craft and recipe ideas that I haven't come across in American books. The kids love the book and ask to make something out of it frequently. We decided to make the funny face pizzas from the book recently and had so much fun putting them together as a family.
As it turned out, the kids wanted to eat the ears and bow-ties (made of kiwi and grapes) continuously and weren't all that interested in the actual pizzas. I think they may be fruititarians. But the memory of making them together was the best part. And I think they turned out super cute.
You can really use whatever toppings you like for the ears, nose and mouth. The book suggests flower-cut slices of mozzarella cheese for eyes, a mushroom slice for the nose and a green pepper strip for the mouth. The book also adds "a carton of mustard and cress" for hair. We thought about adding alfalfa sprouts, but decided to go with bald funny faces instead so we didn't have to head to the store. We used black olive slices for eyes and leftover purple hashbrowns for the mouths. The kids had fun making a crazy face that they named "Pete," after the pseudo bad guy on Mickey Mouse Clubhouse. He had a lot of eyes, a melted off mouth, plenty of noses and was awarded no ears or bow-ties. Hilarious.
I think the most important part of the recipe is the kiwi ears and the cute little kiwi bow-tie. It's so simple, but brilliant. For this recipe, we made six mini pizzas, so I sliced 12 slices of kiwi (about 1 1/2 kiwis…Bug obliged me my throwing herself on the extra kiwi half). Then you cut those slices in half. Slice the ear halves lengthwise and the bow-tie halves across the shorter width for the most accurate ears and ties. Then you top the center of each bow-tie with a grape for the knot! We left ours whole, but I suppose you could cut your grapes in half so they'd lay flat if you want it to be perfect.
Kid-Constructed Funny Face Mini Pizzas Recipe
The Super Easy Vegetarian Slow Cooker Cookbook
Want vegetarian and vegan recipes you'll love? Check out my first cookbook! I'm so excited about it and I hope you'll love it. You can find more information about it right
HERE
.