As an Amazon Associate, I earn from qualifying purchases.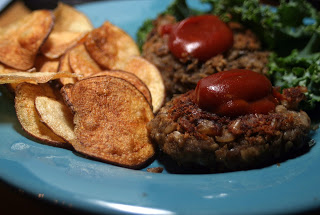 Day 190.
One of the things I love about the Lentil and Rice Ground Beef Substitute is, when you make it with the wheat gluten, it sticks together really well. You can even make it into burgers. You can't really do that effectively with many of the store-bought beef crumbles. Some of the tube versions work pretty well. But I am super excited to be able to try this recipe.
Japanese Sliders with Wasabi Ketchup
Adapted from Japanese Burgers with Wasabi Ketchup.
Ingredients
Wasabi Ketchup:

1/2 cup ketchup
2 tablespoons soy sauce
1 tablespoon wasabi

Japanese Burgers:

1/2 cup panko breadcrumbs (or regular dried breadcrumbs)
1/4 cup unsweetened soy milk
1/4 teaspoon freshly ground black pepper
1/3 cup finely chopped white onion
1/2 tablespoon soy sauce
salt, to taste
Sesame oil, for coating hands
Directions
To make the wasabi ketchup, whisk together the ketchup, soy sauce, and wasabi in a bowl; set aside. This pretty much tastes like spicy cocktail sauce to me, which makes sense since wasabi is basically Japanese horseradish. So, if you have horseradish on-hand, you can use that, too.
To make the burgers, mix together the breadcrumbs and soy milk and let sit until the breadcrumbs absorb all the soy milk, about 5 minutes. When the breadcrumbs are ready, mix them together with the "ground beef," black pepper, onion, soy sauce, and salt in a large bowl or directly in your freezer bag (if you store your "meat" in quart bags like I do). If it's in the freezer bag, it's super easy to blend. Knead the meat until it becomes sticky and binds together; divide the mixture into 8 equal parts. Lightly dab your hands with sesame oil. Using your palms, roll each part of the meat into a ball, then pat the ball flat and form a 1/2-inch-thick patty.
Preheat a grill or pan medium. Grill (or fry with a bit of olive oil) the burgers until they're nicely browned, about 3 to 5 minutes per side, flipping only once. Spoon the wasabi ketchup on top and serve.
The Results
These are good. Really good. But I don't really think they're all that Japanese in flavor. They pretty much taste like yummy burgers with wasabi ketchup. I'm OK with that, but I was expecting more Asian flare I guess. Regardless, I really like the burger recipe and was super excited the lentil "beef" held up so well.
This post is shared with What's for Lunch Wednesday and Muffin Tin Monday.
The Super Easy Vegetarian Slow Cooker Cookbook
Want vegetarian and vegan recipes you'll love? Check out my first cookbook! I'm so excited about it and I hope you'll love it. You can find more information about it right
HERE
.