As an Amazon Associate, I earn from qualifying purchases.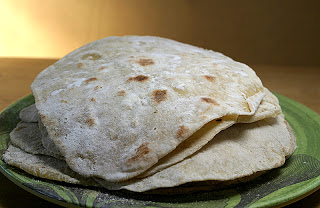 As you may have noticed from the preponderance of quesadilla recipes on the site, my kids LOVE tortillas.
It may border on obsession. So, when we started our Get Real journey, we knew we had to break down and get a handle on our store-bought tortillas.
Yes, you can buy store-bought tortillas with quality ingredients, but what can I say, I really get into the whole challenge thing (see the year of 2011).
So, I made tortillas. Not as pretty as Kelly's, but tortillas, which the kids ate…and loved. Awesome. I served them with my Easy Homemade Picante Salsa, which Bug and I made together. It is incredible and I'm so glad we made 5 pints of it. Delicious and easy.
Homemade Tortillas and Salsa
Ingredients for 20-24 small tortillas
6 1/2 cups unbleached, all-purpose flour (I had to increase this amount by half a cup, possibly due to altitude or humidity)
10 tablespoons unsalted butter
2 cups HOT tap water
2 teaspoons kosher salt
Tortillas Method
Cube the cold butter and add flour and butter to the food processor with a chopping blade. Process until combined.
Dissolve the salt in hot water. Switch to dough blade, if applicable. Pour salt water through the feeder tube of your processor. (Watch that the flour doesn't get too wet, next time I might reduce the water amount, because this is where I got frustrated…I ended up adding the 1/2 cup of flour and was fine, but was kicking myself that I didn't stop adding water before-hand.) Stir until combined.
On a floured surface, divide dough into equal balls. Roll out flat on floured surface (I did this in batches, because I have limited counter space…this prompted me to go out and buy a 6-inch tortilla press later). Heat a griddle to high and then turn down to medium. Grill tortillas on one side until small bubbles appear. Flip and grill about another minute. Repeat process until all tortillas are grilled.
I had enough flour on the outside of my tortillas that I didn't need to separate them with plastic wrap before bagging and freezing. But, with the tortilla press that might not be the case.
Easy Homemade Picante Salsa
43.5 ounces Hunt's All-Natural Diced Tomatoes (three 14.5 ounce cans)
29 ounces (2 cans full) water
2 yellow onions, minced
1 green bell pepper, minced
1 Tablespoon minced garlic
1/4 cup white vinegar
2 tablespoons lime juice
1 teaspoon salt
2 jalapeno peppers, seeded and minced (optional)
Salsa Method
Place all ingredients into a large saucepan. Bring to a boil over medium-high. Reduced to medium-low and simmer 45 minutes, stirring occasionally.
Place all ingredients in blender and pulse until just combined.
Serve warm or chilled.
The Results
In spite of my minor frustrations (hey, I'm new at this homemade tortilla thing), these came out really well and were delicious. The only thing the kids didn't like (really just Bug, Goose didn't chew slow enough to even notice), was the extra flour on the outside of the tortillas. Once I knocked that off, they went crazy for them. We served the first ones with just salsa. Later, we served them with salsa, refried beans and cheese. They also love them with peanut butter (yes, I know they're weird, I'm OK with it).
This post shared at Gallery of Favorites, Fresh Bites Friday, Friday Favorites, Potluck Friday,·Frugal Fridays and I'm Lovin' It.
The Super Easy Vegetarian Slow Cooker Cookbook
Want vegetarian and vegan recipes you'll love? Check out my first cookbook! I'm so excited about it and I hope you'll love it. You can find more information about it right
HERE
.