As an Amazon Associate, I earn from qualifying purchases.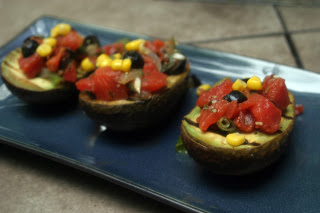 Day 196.
We are a home of avocado lovers. I think avocado and it's delicious progeny guacamole is one of those things people either love or hate. I remember asking my dad when I was a pre-teen how people could like guacamole. He said it was an "acquired taste." My response: "Why would you want to acquire it?"
Obviously, I've since changed my tune. Our whole family loves guacamole. Yes, even the toddlers. When we go out for Mexican food, we're lucky if we get to eat any of it at all. Bug grabs a chip and scoops the "wahka" in like crazy. So, I overestimated the amount of avocados I needed for another recipe and blessedly ended up with a need to create a new dish. I have never grilled an avocado, nor stuffed it. But by golly I'm glad I have now.
Grilled Avocados
Adapted from Grilled Avocado with Corn Relish.
Ingredients
4 avocados, halved and pitted
lime juice
kosher salt
10.5 ounces Rotel
15 ounces black beans, drained
.625 cups    onion, diced
15 ounces corn, drained
1 tablespoon lime juice
1 tablespoon cumin
1 tablespoon fresh cilantro, chopped
1 cup cucumber, diced
2 green onions, diced
6 ounces black olives, sliced
Directions
Sprinkle a bit of lime juice and kosher salt on cut avocados. Grill avocados, cut-side down, for 3-5 minutes. Meanwhile, mix remaining ingredients in a bowl.
Spoon about 2 tablespoons of salsa into pit depression.
The Results
Wow. Why have I not grilled avocado before? Just the avocado itself, untopped was fantastic. And with the salsa it was like eating a fresh grilled guacamole, sort of deconstructed. We had ours with tortilla chips and even rolled a couple into burritos. Fantastic. I'm making a salad with the grilled avocado this weekend. Yum.
This post shared at Fat Camp Friday, Crafty Friday, Friday Favorites, Potluck Friday,·Frugal Fridays, Foodie Friday and I'm Lovin' It.
The Super Easy Vegetarian Slow Cooker Cookbook
Want vegetarian and vegan recipes you'll love? Check out my first cookbook! I'm so excited about it and I hope you'll love it. You can find more information about it right
HERE
.