As an Amazon Associate, I earn from qualifying purchases.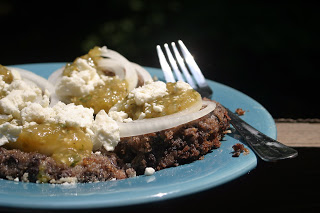 Green Salsa tops these 'Love Cakes' black bean patties.
Green Salsa
Ingredients
1 1/2 pounds tomatillos
1/4 cup minced yellow onion
2 garlic cloves, peeled
2 serrano peppers, stemmed and seeded
1/2 teaspoon kosher salt
1/4 teaspoon white pepper
3 tablespoons chopped fresh cilantro
Directions
Preheat oven to 350° F.
Peel the husks off the tomatillos. Place them in a roasting pan with the onion, garlic, and Serrano
peppers. Roast for 25 to 35 minutes. The tomatillos will break down and become juicy. Remove form oven and cool.
Place the roasted ingredients in a food processor and puree. Season with salt, white pepper, and cilantro. Chill until ready to serve.
It's awesome on these Black Bean Love Cakes.
The Super Easy Vegetarian Slow Cooker Cookbook
Want vegetarian and vegan recipes you'll love? Check out my first cookbook! I'm so excited about it and I hope you'll love it. You can find more information about it right
HERE
.