As an Amazon Associate, I earn from qualifying purchases.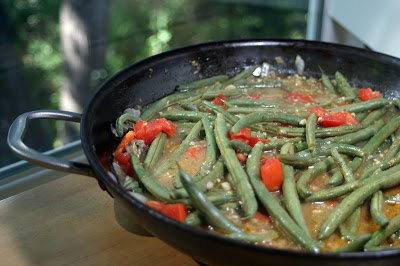 Day 279.
It's leftover day! It's leftover day! OK, today I planned a little bit ahead. It's more of a "What's left from my CSA box?" Day than my usual "What can I mix together from the fridge and concoct into something else?" Day. But it is a happy, happy day all the same. I have these delicious fresh green beans and tomatoes that I keep thinking we'll just eat cooked simply on their own some day. But, here the beauties still sit. So…we get to have this yummy creation adapted from Kate's recipe at Stolen Moments Cooking. She has a knack for creation delicious, yet simple meals that I can then veganize into delicious, simple veggie-friendly meals.
To veganize this one, I swapped the beef for my beefy Lentil-Brown Rice mix, added a bit of nutritional yeast and olive oil to simulate "meatiness" and swapped in minced garlic in place of powdered for extra flavor. This version is also a little more green bean than "beef"…I used used 2 cups of "beef" instead of a pound and kept a full pound of beans. Did I mention they are yummy, delicious fresh green beans? I'm pretty sure I did, but just a reminder: yum.
Green Bean Beef Skillet
Adapted from Ground Beef Green Bean Skillet.
Ingredients
1/2 onion, diced
4 cloves garlic, minced
1 1/2 teaspoons House seasoning
1 teaspoon oregano
1 pound fresh green beans, trimmed
1 large tomato, diced and seeded
1 1/2 cups Easy Slow Cooker Vegetable Broth
1 tablespoon nutritional yeast
1 tablespoon tomato paste*
*(I made my own sort of like THIS but a small batch of 3 roma tomatoes with the time reduced to about 40 minutes, not because I'm awesome, but mainly because I didn't want to go to the store. hah!)
Instructions
Place about 2 tablespoons olive oil, garlic and onion in a skillet, saute until onions begin to get soft. Add "beef," House seasoning and oregano. Stir in green beans, tomato and veggie broth and nutritional yeast.
Bring to a boil, reduce heat to low and simmer about 10 minutes, until green beans are crisp-tender and stock is reduced. Stir in tomato paste and continue to cook another 5 minutes, until sauce is thickened.
Serve over pasta, rice or mashed potatoes.
The Results
This is an incredibly hearty almost stew-like dish. We had ours over rice, but I'd love to try it over mashed potatoes in the future. I think that would be really tasty. I erred on the side low side of the cooking times to keep the green beans nice and crisp. I think that's the most important part here. This could be pretty good with frozen or even canned beans, but it's awesome with fresh beans. The kids ate all their beans and then tomatoes and saved their beefy rice for last (apparently they really are my kids). Bug was absolutely obsessed with the beans (she stole quite a few before and during the cooking process). My husband and I both liked this…the green beans were also the favorite for the adults.
This post is shared with Simple Lives Thursday, Tip Day Thursday, Frugal Food Thursday, Recipe Swap Thursday,Recipes I Can't Wait to Try, Things I Love Thursday, It's a Keeper, Full Plate Thursday, and Ultimate Recipe Swap.
The Super Easy Vegetarian Slow Cooker Cookbook
Want vegetarian and vegan recipes you'll love? Check out my first cookbook! I'm so excited about it and I hope you'll love it. You can find more information about it right
HERE
.