As an Amazon Associate, I earn from qualifying purchases.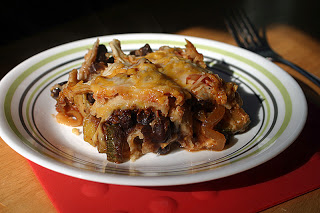 Day 337.
With some leftover fajita vegetables, I decided to create a simple Mexican casserole that the kids should love. The fajita vegetables can be made with just about any combination of chopped vegetables. Mine included peppers, onions, tomatoes, mushrooms, broccoli and cauliflower.
Fajita Casserole
Ingredients
6-7 small corn tortillas (corn tortillas tend to hold up a bit better in casseroles)
2 cups fajita vegetables
2 cups black beans
1 tablespoon taco seasoning
1 cup salsa
2.5 cups Mexican cheese, shredded
Directions
Preheat oven to 350.
Spray or grease an 8 x 8 baking dish. Place 3 tortillas on the bottom layer (I cut 2 in half and place the flat edges along the perimeter and add a third to the center for a complete bottom layer). Top with half of the fajita vegetables. Mix black beans and taco seasoning, layering half on top of the vegetables. Add 1/3 cup of salsa and 1 cup cheese. Top with 2 tortillas and repeat layers.
Top with 2 more tortillas, spread remaining 1/3 cup salsa and 1/2 cup cheese on top of the top layer of tortillas. Bake at 350 for 30-40 minutes, until heated through and cheese is bubbly.
The Results
This was quick and delicious. The kids really enjoyed it; it was a lot easier for them to eat than faijtas since it's all sealed together. The tortillas held up well.
This post is shared with What's for Lunch Wednesday , Gallery of Favorites, Simply Delish and Muffin Tin Monday.
The Super Easy Vegetarian Slow Cooker Cookbook
Want vegetarian and vegan recipes you'll love? Check out my first cookbook! I'm so excited about it and I hope you'll love it. You can find more information about it right
HERE
.