As an Amazon Associate, I earn from qualifying purchases.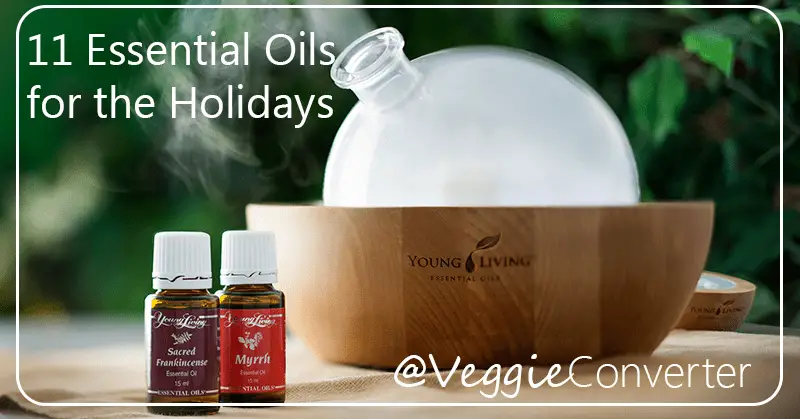 I'm a big fan of essential oils for health reasons, but sometimes I add a few scents to the diffuser just to have everything smell lovely. Especially after the kids have made it smell funky. Here are my 11 favorite scents and combinations of essential oils for the holidays!
1. Orange and Thieves
I frequently add sliced oranges, cinnamon sticks and cloves to simmering water on the stovetop to defunk kitchen smells. This combination–2 drops orange and 2 drops Thieves essential oils–smells exactly the same. I'm in love!
2. Christmas Spirit 
Christmas Spirit is a sweet, spicy blend of orange, cinnamon, and spruce essential oils that tap into the happiness, joy, and security associated with the holiday season. With Christmas Spirit on hand, simply open a bottle and start diffusing!
3. Frankincense and Myrrh
Those wise men were onto something. Diffuse this Christmasy combo to get yourself in the spirit with these precious, spiritually uplifting essential oils.
4. Pumpkin Pie Blend
5 drops cinnamon bark and 1 drop each clove and nutmeg essential oils emulate the tasty smell of fresh-baked pumpkin pie.
5. Walk in the Woods Blend 
3 drops Cypress, 2 drops Idaho Balsam Fir and 1 drop Royal Hawaiian Sandalwood will bring the smells of the forest into your living room.
6. Christmas Tree Blend 
4 drops pine, 2 drops cedarwood and 3 drops of Idaho blue spruce is a great combination to enhance the natural Christmas tree scent (or emulate one if you don't use a cut tree).
7. New Year's Cheer Blend 
1 drop ylang ylang, 2 drops lavender and 5 drops orange essential oils will perk you up for New Year's Eve.
8. Holiday Enlightenment Blend 
4 drops orange and 4 drops Believe essential oils will uplift your spirit and motivate you. Orange has a rich, fruity scent that lifts the spirit while providing a calming influence on the body. Orange brings peace and happiness to the mind. Believe may help assist as you move to a higher level of awareness. As you are able to move past emotional setbacks and barriers, you will be able to reach your true, unlimited potential.
9. Jade Lemon
Jade Lemon essential oil contains high levels of d-limonene, which helps invigorate, uplift, and energize, as well as support clarity of thought and purpose. This oil supports skin health; helps open and release emotional blocks; and is useful to clean, detox, and purify. A 1995 Mie University study also found that citrus fragrances induce relaxation and invoke feelings of happiness.
10. Evergreen Essence 
This essential oil takes you back to nature by combining the scents of a variety of aromatic pine, cedar, and spruce trees. Crisp and invigorating, it refreshes your senses.
11. Into the Future 
A great essential oil to diffuse on New Year's Day, Into the Future empowers you to leave the past behind and confidently move forward.
Not yet a member? Learn more about joining Young Living HERE.
Love it? Pin it, please!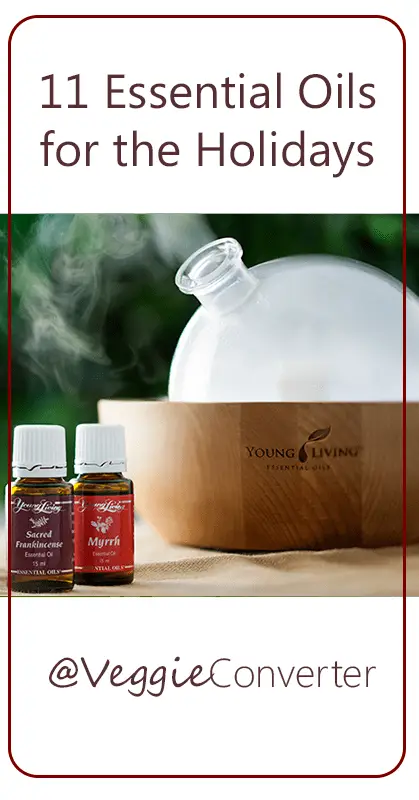 The Super Easy Vegetarian Slow Cooker Cookbook
Want vegetarian and vegan recipes you'll love? Check out my first cookbook! I'm so excited about it and I hope you'll love it. You can find more information about it right
HERE
.