As an Amazon Associate, I earn from qualifying purchases.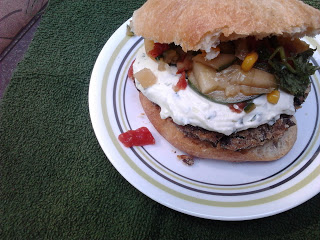 Day 153.
This is a brand new experience for leftover day. Community leftovers are going into this dish! Before you think I went dumpster diving in our neighborhood, I'll explain. We had a Memorial Day weekend block party of sorts and my lovely neighbor, Shelly, made some super yummy Goat Cheese spread for these: Tomato Goat Cheese Tarts, which she actually makes as little tiny tarts instead of one huge one.
I also had some burger patties leftover from Bacon Cheeseburger Recipe and somehow a bit of the Mexican Cucumber Salad survived the wrath of my cucumber-loving husband and daughter. So, I created a relish out of the delicious cucs and served the repurposed burgers with a layer of goat cheese spread and a layer of relish on the delicious (and surprisingly simple) homemade buns.
Cucumber Relish and Goat Cheese Burgers
Ingredients
1/2 cup packed fresh basil leaves
7 ounces mild soft goat cheese, softened
3/4 stick (6 tablespoons) unsalted butter, well softened
1/2 cup sour cream
2 large eggs
Mexican Cucumber Salad, diced into relish
homemade buns (makes 12)
Method
Place 2 tablespoons of Goat Cheese Custard on each burger patty. Top with cucumber relish and serve on a homemade bun.
The Results
Delicious! I absolutely love this. The cucumbers and the cheese spread bring some great moisture to the burger patty. And the buns! Yum. I went without the eggwash on top, opting instead for a bit of cooking spray and the sesame seeds. They were incredibly easy and tasted fabulous with these burgers. I highly recommend all the components here.
Project:
F
ood
Budget
I'm doing the "it's a new month" dance today. Hooray. This week I went way under budget, we only paid for our CSA box (which arrives sometime today). We actually upped our order to the "medium" box, so that's $46 instead of $38 now. We will probably be heading to Kroger sometime today. So we'll see where that puts us at day's end. But for now, we are sooo under budget. 🙂
Goal: $75/week $300/month
Actual: $46
Participating blogs:
This post is shared with Simple Lives Thursday, Tip Day Thursday, Frugal Food Thursday, Recipe Swap Thursday,Recipes I Can't Wait to Try, Things I Love Thursday, It's a Keeper, Full Plate Thursday, Grocery Cart Challenge, Cooking Thursday and Ultimate Recipe Swap.
The Super Easy Vegetarian Slow Cooker Cookbook
Want vegetarian and vegan recipes you'll love? Check out my first cookbook! I'm so excited about it and I hope you'll love it. You can find more information about it right
HERE
.