As an Amazon Associate, I earn from qualifying purchases.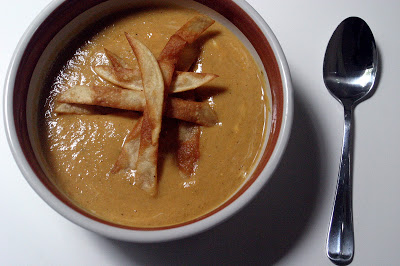 Day 264.
I am a huge fan of all things Mexican, and tortilla soup is one that I've always enjoyed. But, alas, it almost always has some sort of chicken or other meat when you try to order it out. I've made a taco soup with ground beef substitute, but hadn't yet tried a chicken version.
This creamy version just looks fantastic to me. All I needed to change was a swap of the chicken to chickpeas and the chicken stock for veggie stock. I also increased the garlic a tad and used chiles I could find (they didn't have Aji Amarillos at my market).
Creamy Tortilla Soup with Chickpeas and Corn
Adapted from Creamy Tortilla Soup with Chicken and Corn.
Ingredients
olive oil
1 medium onion, chopped
6 cloves garlic, minced
2 yellow chiles (I used Hungarian wax chiles), seeded & stemmed
4 corn tortillas, ripped into small pieces
1 teaspoon ground cumin
1 teaspoon dried oregano
1 teaspoon turmeric
14.5 ounces diced tomatoes with chilies (I subbed 2 cups leftover Roasted Corn Salsa for this and the corn)
4 cups Easy Slow Cooker Vegetable Broth
2 cups chickpeas, cooked
1 cup corn
1/2 cup sour cream
1/2 cup Mexican blend cheese, shredded
garnish options:
sour cream
corn tortillas, cut into strips and fried
lime wedges
chopped cilantro
cheese
Method
Heat olive oil in a medium Dutch oven (or deep, heavy pot) over medium heat; sauté onions and garlic for about 3 minutes, or until softened and just beginning to color.
Add tortillas, chiles, and spices and sauté for another few minutes, stirring constantly.
Pour in tomatoes with their juices and the vegetable broth and bring to a boil.
Reduce to a simmer and let bubble gently for 5-10 minutes.
Remove from heat and let it cool for a few minutes. 
Purée in batches in a blender until smooth.  If desired, strain back into dutch oven.
Add chickpeas and corn and bring back to a boil. 
Reduce heat to a simmer for 5 minutes. 
Turn off heat and stir in sour cream and cheese.
Season to taste with salt.
Instant Pot Method
Turn instant pot on saute, medium. 
Saute onions and garlic for about 3 minutes with a bit of oil until softened.
Add remaining ingredients, except garnishes, chickpeas and corn and cook on high pressure for 30 minutes. Allow pressure to naturally release.
Puree until smooth.
Strain if desired. Add chickpeas and corn and saute on high for 15 minutes.
Stir in sour cream and cheese. Add tortilla  Season to taste.
The Results
The creeping heat description that Heather gives is so accurate. It's one of those that you initially don't truly realize is going to be spicy. Then it subtly creeps up on you. I absolutely loved the flavor and the bites of chickpeas in the creamy soup. I thought it might be a little on the spicy side for the kids, but they enjoyed it as a dip for their fried tortilla strips.
The only downside to this soup, for me, is the flavors ended up reminding me a lot of curry, which isn't exactly what I want in my tortilla soup. I think, if i were to make it again, I'd replace the turmeric and cumin with taco seasoning mix. This time, I just mixed in a bit of tomato salsa in my bowl.
This post is shared with Real Food Wednesday, Recipes I Can't Wait to Try, What's Cooking Wednesday, What's on Your Plate?, What's on the Menu Wednesday, Let's Do Brunch, Works for me Wednesday, These Chicks Cooked, Recipe Link Party, Foodie Wednesday, Cast Party Wednesday and No Whine Wednesday.
The Super Easy Vegetarian Slow Cooker Cookbook
Want vegetarian and vegan recipes you'll love? Check out my first cookbook! I'm so excited about it and I hope you'll love it. You can find more information about it right
HERE
.