As an Amazon Associate, I earn from qualifying purchases.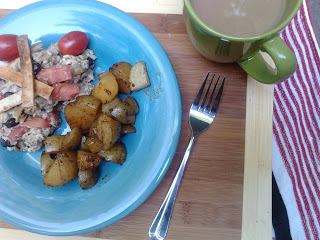 Day 142.
This is the perfect hangover recipe for everyone who has a BlogHer Food '11 hangover. Not necessarily from alcohol, but from three days of bloggy goodness and squeeing. I love "recipes" like this one. It doesn't even list all of the ingredients. It's simply a reference to this dish made at some restaurant.
So, I took a cue from the professional recipe-developers session at BlogHer Food this year and actually WROTE DOWN what ingredients I put into the "mess" as I attempted to recreate it. What? Me? Write down ingredients? I know. It's a learning curve, but I'm trying. The most important part is for anyone who reads the recipe to be able to recreate it. I also learned I need to write all of my ingredients in the order I use them. Sure, I do that sometimes, but I'm not sure that's always what I do. I think sometimes I go in order of amount. But, I'm going to try to be better. So, here it goes.
Castro's Mess
Adapted from Castro's Mess.
Ingredients
olive oil 
Egg mess:
6 eggs
1 7 oz. can of green chiles
1/4 cup black beans, refried or mashed
1/2 cup black beans, whole
1.5 cups Mexican cheese, shredded
1-2 small tomatoes, diced (about 1/3-2/3 cup)
3 tortillas
olive oil
House seasoning, to taste
Taco seasoning, to taste
Home fries:
About 4 cups of diced potatoes
olive oil
2 cloves garlic, minced
Taco seasoning, to taste
House seasoning, to taste
Directions
Boil water for potatoes. Boil for 6 minutes. Drain and place potatoes in a medium skillet with olive oil, House seasoning and taco seasoning. Fry potatoes until they reach desired tenderness (about 5-8 minutes, depending on size of dice).
Meanwhile, put olive oil in medium skillet (enough to coat bottom). Whisk 6 eggs in a medium bowl. Add green chiles to skillet and heat through. Pour in eggs. Stirring regularly, mix in refried or mashed black beans, black beans and then cheese. Melt cheese through and add tomatoes.
While eggs are scrambling, cut tortillas into strips and preheat oven to broil. Cover tortilla strips in olive oil (about 2-3 Tablespoons) and sprinkle with House seasoning and taco seasoning. Broil for about 5 minutes, or until crispy. If necessary, flip strips and broil for an additional 2 minutes.
When all components are complete, top eggs with tortilla strips and serve potatoes with eggs. If desired, top potatoes with fresh chives and eggs with fresh cilantro.
The Results
Wow. This was the perfect pick me up for the "I'm-so-tired-and-I-can't-feel-my-somehow-still-aching-feet" ailment that I was suffering this morning. I so enjoyed BlogHer, but it also made me realize what I total wuss I've become for walking around town and staying out "late." Yes, to me, apparently late now means just staying out until 11 p.m. Sad, but true. But, this dish was perfection. I'll admit my favorite part is the tortillas. I'm not a huge egg person, but these were super delicious. This hangover recipe, Castro's Mess, tasted like scrambled black beans and salsa. Yum.
Love breakfast for dinner? Try these Goose Eggs, too!
What are you having for Sunday Brunch, Breakfast or Lunch?
This post is shared at·Sundays at One Food Club, Just Something I Whipped Up, Penny Worthy Project, Cookbook Sundays·and·Potluck Sunday.
The Super Easy Vegetarian Slow Cooker Cookbook
Want vegetarian and vegan recipes you'll love? Check out my first cookbook! I'm so excited about it and I hope you'll love it. You can find more information about it right
HERE
.