As an Amazon Associate, I earn from qualifying purchases.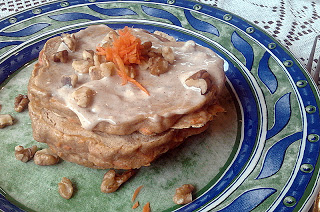 It's almost Easter and the Easter Bunny is hopping over to our house today with these delicious Carrot Cake Pancakes. This recipe was pretty simple (and healthy). And I'm completely in love with the Maple-Cinnamon Cream Cheese Spread on top. I've been eating the leftover spread on toast. Yum.
Carrot Cake Pancakes
Ingredients
3 ounces Cream Cheese
2 tablespoons Maple Syrup
¼ teaspoons Cinnamon #1
1 cup grate Carrot
1 ½ cups Flour, Whole Wheat
¾ cups Flour, All-Purpose
2 teaspoons Baking Powder
1 ¼ teaspoons Cinnamon #2
¼ teaspoons Allspice, Ground
¼ teaspoons Salt
¼ cups chop Walnuts
1 ½ cups Whole Milk
⅓ cups Brown Sugar
2 individual Egg
¼ cups Applesauce
And, of course, we're dying Easter Eggs again so I'm planning on making a few of my favorite recipes to use up hard-boiled eggs next week. My husband is super excited about that, because he is absolutely in LOVE with deviled eggs and egg salad sandwiches.
Curried Egg Salad with Caramelized Onions
The Results
I really like these pancakes (especially the spread) I think next time I make these I'm going to try adding carrots and walnuts to our new favorite pancake recipe, IHOP-Style Pancakes, because the Carrot Cake pancake base is a little dense for my pancake tastes.
This post shared at Gallery of Favorites, Fresh Bites Friday, Friday Favorites, Frugal Fridays and I'm Lovin' It.
The Super Easy Vegetarian Slow Cooker Cookbook
Want vegetarian and vegan recipes you'll love? Check out my first cookbook! I'm so excited about it and I hope you'll love it. You can find more information about it right
HERE
.