As an Amazon Associate, I earn from qualifying purchases.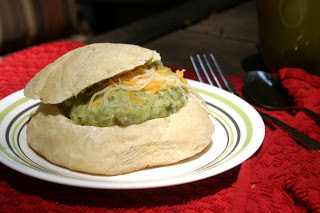 Day 159.
Our 2-year-old, Bug, absolutely adores Broccoli Cheese Soup. And she does amazingly well with such a sloppy soup. For her age. That doesn't mean I want to serve it to her in public terribly often. Or heck, even at home. It's messy! But she loves it. So I am experimenting with a soup she can eat with her hands. What? Insanity, right? Don't worry, it's in a little sourdough bread pocket. And no, I'm absolutely not a clean freak. We eat spaghetti all the time. But I really want her to get most of her food in her mouth instead of feeding it to the floor monsters (aka her floor scavenging little sister and the cat).
Broccoli Cheddar Pockets
Adapted from Broccoli Cheddar Soup.
Ingredients
2 tablespoons unsalted butter or olive oil
1 medium onion, chopped
House seasoning, to taste
1 large potato, cut into 1/4-inch cubes (1 1/2 cups)
2 cloves garlic, finely chopped
2 cups light vegetable broth (Tip: mix in 1/2 tablespoon per cup nutritional yeast for richer broth flavor)
1 large head of broccoli (12 ounces or 3/4 lb.), cut into small florets
1 cup chickpeas, cooked and mashed slightly
1 cup Cheddar, shredded plus more for topping*
1 cup Mozzarella, shredded**
12 Sourdough Roll Pockets
*VEGAN: Daiya Cheddar cheeze
**VEGAN: Daiya Mozzarella cheeze
Tip: To serve the soup on its own, increase the broth to 3.5 cups to make it soupy. The pocket version is intentionally thick to allow it to stay in the pocket.
Method
Heat the olive oil in a large saucepan over medium-high heat. Stir in the onion, and a big pinch of House seasoning. Saute for a couple of minutes. Stir in the potatoes, cover, and cook for about four minutes, just long enough for them to soften up a bit. Uncover, stir in the garlic, then broth. Bring to a boil. Check potatoes for tenderness. When potatoes are tender, add broccoli and chickpeas.
Simmer just long enough for the broccoli to get tender throughout, 2 – 4 minutes. Immediately remove the soup from heat and puree with an immersion blender. Add half the cheddar cheese. Add more water or broth if you feel the need to thin out the soup at all. Add more House seasoning, to taste.
Cut tops off of Sour Dough Rolls (cut in at an angle to hallow out the roll like a small bread bowl). Press down the center of "pocket" firmly. Ladle in a few tablespoons of soup per roll. You can eat these with your hands, or choose to be super civilized and serve with a fork and spoon.
The Results
Holy wow. This soup is so fantastic on its own. I'm just so happy to finally find a whole food Broccoli Cheese Soup I can make at home. I hate the ones with the "cheese product"…creamy: yes; tasty: no. The pockets make it super simple to eat, especially for the Bug. I highly recommend this kid-friendly meal.
This post is shared with Real Food Wednesday, Recipes I Can't Wait to Try, What's Cooking Wednesday, What's on Your Plate?, What's on the Menu Wednesday, Let's Do Brunch, Works for me Wednesday, Gold Star Wednesday, These Chicks Cooked and No Whine Wednesday.
The Super Easy Vegetarian Slow Cooker Cookbook
Want vegetarian and vegan recipes you'll love? Check out my first cookbook! I'm so excited about it and I hope you'll love it. You can find more information about it right
HERE
.