As an Amazon Associate, I earn from qualifying purchases.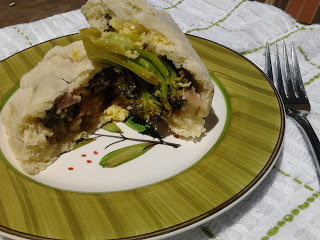 Day 135.
Another CSA box special today, homemade breakfast pockets. Red onions and broccoli were both in the box, which led to my discovery of these delicious-sounding breakfast pockets from Joy in My Kitchen. I'm substituting some leftover Hammy Cold Cuts for the bacon strips, but you can also use bacon bits.
To make it vegan, use vegan cheez and scrambled tofu instead of cheez and eggs, as well as agave nectar for the honey. I think these will be a great quick breakfast or lunch for the kids and I to munch on for several days.
Homemade Breakfast Pockets
Adapted from Breakfast Pockets.
Ingredients

Dough:
1 cup really warm water
1 teaspoon honey
1 tablespoon yeast
1 teaspoon salt
1 tablespoon olive oil
1 1/2 cups whole wheat flour or gluten-free flour
1 cup white whole wheat flour or gluten-free flour
Filling:
1 cup cheese, shredded
1/2 red onion, diced
1/2 red bell pepper, finely chopped
1 cup broccoli, chopped
4 eggs
1/4 cup milk
salt and pepper, as desired
2 pieces of Hammy Cold Cuts chopped or 1/2 cup bacon bits
Method
Begin by preparing the dough.
Dissolve the yeast in the warm water in the bottom of a large bowl (or mixing bowl if you are using your stand mixer).
Allow the yeast and water to sit for about 1 minute.  Then, add in the honey, salt and olive oil.
Stir in the flour.
You can either do this by hand or with your mixer.  Knead the dough for about 5 minutes until smooth.  Allow the dough to sit, covered for 5 minutes while you prepare your filling.
Partially brown onion in olive oil, adding pepper and broccoli and sauteing the vegetables until crisp tender.
While the veggies are cooking, whisk together the 4 eggs and the 1/4 C milk.
Scramble the eggs in a lightly greased skillet until eggs are set.
Season with salt and pepper, to taste.  Mix in cheese and heat until melted.
Combine the veggie mixture together with the eggs.
Then, mix the ham or bacon substitute into the egg veggie filling.
Now, divide the dough into 10 small balls.
Flatten and roll out those dough balls into dough circles.
Place the dough circles on a lightly greased cookie sheet.
Now is also the time to preheat the oven to 400.
Divide the topping mixture into proportions equal to the number of pockets you have to fill.
For us, that equated to about 1/2-3/4 C mixture per pocket.
Place the filling on half of the dough pocket.
Using a pastry brush, spread water around the edges of the dough.
Fold the dough over the filling and press to seal.
Use a fork to seal the edges tightly.
If desired, spray tops with cooking spray or olive oil. Sprinkle the top of the pockets with Italian seasoning, or chives and kosher salt.
Bake at 400 for 12-14 minutes until pockets are lightly browned and sound hollow when tapped.
The Results
Drool. These are awesome. I think you could do just about any vegetable blend in these with the egg mixture and have it come out well. I chose what I had from the CSA box, but I think spinach and red onion with some feta cheese, maybe even some soysage would be excellent, too.
What are you having for Sunday Brunch, Breakfast or Lunch?
This post is shared at·Sundays at One Food Club, Just Something I Whipped Up, Penny Worthy Project, Cookbook Sundays·and·Potluck Sunday.
The Super Easy Vegetarian Slow Cooker Cookbook
Want vegetarian and vegan recipes you'll love? Check out my first cookbook! I'm so excited about it and I hope you'll love it. You can find more information about it right
HERE
.