As an Amazon Associate, I earn from qualifying purchases.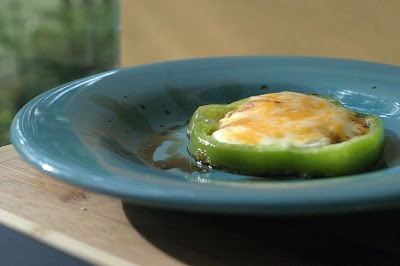 Day 254.
Googly eyes in the pan

Eggs inside bell pepper rings? How cool! I thought this recipe was really neat. And such a simple way to keep fried egg in a small space (kind of like those fancy metal egg rings, but cheaper and tastier).
We made a pepper's worth (5 egg rings) for our breakfast-for-dinner night. The kids were busy gobbling up leftover quesadillas and didn't notice these in their finished state. They did, however, love the googly eyes in the pan.
Bell Pepper Egg Rings
Adapted from
One-Eyed Martha
.
Ingredients
1 large bell pepper any color, seeded, and sliced into 1/2 inch rings
5 eggs
Mexican cheese, shredded
balsamic glaze
olive oil
Directions
Spread a little olive oil in a cast iron skillet or non stick pan over medium high heat. Add bell pepper and cook on each side for 30 seconds. Crack one egg into the center of each bell pepper ring. Season with House seasoning. Cook for 3 minutes until white of egg is mostly cooked, and flip gently and allow to cook for another 1-2 minutes.
Top egg with cheese and a little drizzle of balsamic glaze.