As an Amazon Associate, I earn from qualifying purchases.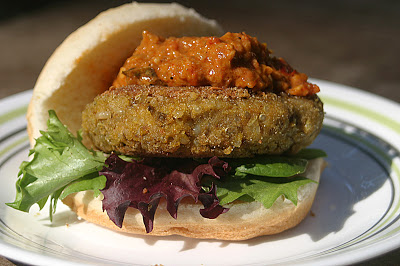 Day 300.
Wow. Day 300. Some days it's hard to believe it's getting close to the end of my 2011 challenge. Other days it feels like I can't possibly come up with 65 more converted recipes! Luckily, today is a leftover day, so I get to create something by staring at the contents of my refrigerator and pantry for a while. Sometimes, this can be more satisfying than trolling through the internet for meaty recipes to convert.
Another stroke of good fortune: the kids managed to scarf up the plain pasta & chickpeas as a side dish, which left some Roasted Red Pepper Pesto to spread onto burgers. I've been craving burgers for some reason this week, so that's the first thing that popped into my head to spread the pesto on. And I keep seeing, on Pinterest and elsewhere, delicious-looking Quinoa Burgers. Most of those are made primarily of quinoa formed into a patty with some binders. They sound delicious. But for whatever reason, what I really wanted was my usual "beefy" Lentil-Brown Rice patty, with quinoa mixed in (sort of like my dad does with oats in real hamburgers).
I guess it's a little funny that I love homemade veggie burgers so much. Hamburgers were the first meat I stopped eating when I was a kid and I've had a love-hate relationship with restaurant and store-bought veggie burgers (I've only ever really liked black bean burgers). But the lentil-brown rice mix (and also, I think, Yves ground round for store-bought) "beef" makes fantastic burgers.
Beefy Quinoa Burgers with Roasted Red Pepper Pesto
Ingredients
1/2 cup cooked quinoa (about 1/4 cup uncooked)
1/4 cup pumpkin puree (or 1 serving other egg substitute)
2 tablespoons breadcrumbs
salt, pepper and cayenne pepper, to taste
About 1/4 cup masa*
1-2 tablespoons olive oil
Toppings (optional):
*Note: Flour, cornmeal or breadcrumbs can be substituted, but I keep masa on-hand and like the texture best.
Directions
Combine beef, cooked quinoa, pumpkin, breadcrumbs and seasonings in a medium bowl or baggie and mix.
Form patties (about 1/4 cup to 1/3 cup for sliders or 1/2 cup for burgers). Place masa on a large plate and coat patties on both sides. Heat a skillet or griddle to medium and add olive oil. Grill in batches according to your pan size (mine held three sliders in two batches) and cook 3-5 minutes per side. Cool on a paper towel-lined plate.
Serve each patty on a bun with leaf lettuce, topped with a generous tablespoon of pesto.
Makes 6 sliders or 3-4 full-size burgers.
The Results
Yum. The kids devoured an entire slider each and asked for seconds. I really loved the texture of the burger: not too squishy and not too crispy. And it has so much good stuff in it with complete proteins and veggies. Fantastic. I'll definitely make the patty again. The husband, who didn't care for the pesto originally, had his plain (but said it was pretty good when trying a bite of mine). He loved the burger patty.
The Super Easy Vegetarian Slow Cooker Cookbook
Want vegetarian and vegan recipes you'll love? Check out my first cookbook! I'm so excited about it and I hope you'll love it. You can find more information about it right
HERE
.