As an Amazon Associate, I earn from qualifying purchases.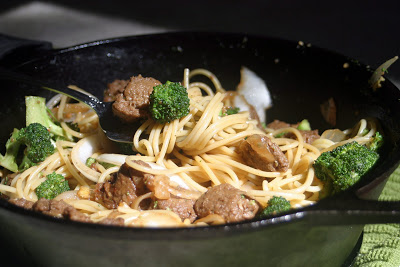 Vegan beef broccoli lo mein is on the menu today. My oldest (2.5) daughter, Bug, is soooo into broccoli lately. She wants it for every meal. Which is well, awesome. But it also means I need to create more and more broccoli meals. Tthough she honestly might be happiest just chewing it right off the stem, alas, there are other food groups than broccoli.
Since she also loves noodles (probably a close second to broccoli), this Lo Mein recipe appealed to me.I also got to use onion and broccoli from our CSA box. Yum. In addition to swapping the meat out (I used Gardein this time, but I would normally use portabella mushroom cap strips or Vegan Steak Strips), I swapped the oyster sauce for miso paste. I know there's vegan oyster sauce out there, but it's not something I keep on-hand, and miso paste is…so that's easier for me. I think either would work fine.
Vegan Beef Broccoli Lo Mein
Adapted from Beef Broccoli Lo Mein.
Ingredients
8 ounces pasta

1 tablespoon peanut oil

1 tablespoon minced peeled fresh ginger

4 garlic cloves, minced

3 cups chopped broccoli

1 1/2 cups vertically sliced onion (about 1/2 a large onion)

8-9 ounces steak substitute (portabella mushroom strips, Vegan Steak Strips, Gardein beefless tips or seitan strips)

1 teaspoon dark sesame oil

3 tablespoons soy sauce

2 tablespoons brown sugar

1 tablespoon miso paste

1 tablespoon chile paste with garlic
Directions
Cook pasta according to package directions.
Meanwhile, heat peanut oil in a large nonstick skillet over medium-high heat. Add the ginger and garlic; saute for 30 seconds. Add broccoli and onion. Saute for 3 minutes. Add steak strips, and saute for 4 minutes or until warm.
Drain pasta. Combine pasta and sesame oil, toss to coat.
Add pasta mixture. In a separate bowl, combine soy sauce with remaining ingredients. Add to pan. Cook 1 minute or until lo mein is thoroughly heated, stirring constantly.
The Results
Yum. This was pretty good. The noodles taste restaurant-style and the broccoli was delicious. Something about the beefless tips is almost too beefy for me. I'm one of those vegetarians who just never liked meat. But alas my husband and kids like that meaty stuff. I think I'd prefer it with the homemade steak strips or seitan. As for the kids, Bug ate 3 bowls and Goose devoured one bowl with gusto. I think they liked it.
This post is shared at·Tuesdays at the Table, Tuesday Night Supper Club,·Slightly Indulgent Tuesday,·Tasty Tuesday, Delectable Tuesday,·Tempt My Tummy Tuesday,·Delicious Dishes,·Real Food Wednesday, Recipe of the Week, Hearth and Soul,Tutorial Tuesday, Tasty Tuesday and Tasty Tuesday.
The Super Easy Vegetarian Slow Cooker Cookbook
Want vegetarian and vegan recipes you'll love? Check out my first cookbook! I'm so excited about it and I hope you'll love it. You can find more information about it right
HERE
.