As an Amazon Associate, I earn from qualifying purchases.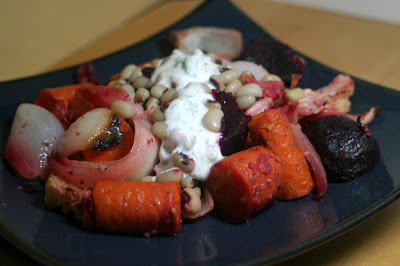 Day 286.
Mmm…bacony beans and roasted vegetables. Yummy!
It's leftover day! Dance, dance, dance! It's another CSA box leftover day. Some of these Fall veggies have been perplexing me for everyday dishes.
This week I had black-eyed peas, beets and carrots, as well as the rest of the cauliflower leftover from that delicious Vegetable Chowder. I recalled a beets recipe that France from Beyond the Peel linked up to Meatless/Vegan Monday a while back and used that as my inspiration for this recipe. Instead of using bacon or bacon substitute, I made my beans "bacony" and used a variety of roasted vegetables rather than just the beets. I'm just not a fan of mint, so I went with a garlicky-Italian yogurt sauce instead.
Bacony Beans and Roasted Vegetables
Adapted from Warm Lemony Navy Beans with Roasted Beets and Mint Yogurt Sauce.
Ingredients
Roasted Vegetables
6 carrots, 1.5 inch pieces
6 beets, halved
3/4 head cauliflower, chopped
1 onion, quartered
1 tablespoon garlic, minced
2-3 tablespoons olive oil
1 tablespoon House seasoning
Bacony Beans 
12 ounces black-eyed peas (or beans of choice)
1 teaspoon bacon salt
1 tablespoon olive oil
1 tablespoon lemon juice
Yogurt Sauce (optional)
1 cup yogurt, vegan
2 green onions, chopped finely
1/4 teaspoon black pepper
1/4 teaspoon garlic powder
2 teaspoons Italian seasoning
Directions
Preheat oven to 450. Mix all Roasted Vegetables ingredients in a large (9×13), deep baking pan. Roast for 35-45 minutes, stirring a few times during roasting, until carrots and beets reach desired tenderness. If you want your cauliflower crunchy, wait to add those until about 10-15 minutes into the roasting time. I like my cauliflower kind of squishy and my beets and carrots a bit crisp, so it works out well for me to roast them all together.
Meanwhile, cook your beans according to directions (mine boiled for 20 minutes) or use beans that you've soaked and cooked. Mix together remaining Bacony Beans ingredients and marinate your beans.
Mix yogurt sauce in a bowl (or food processor, if desired). When vegetables are roasted, serve bacony beans over roasted vegetables, topped with yogurt sauce.
The Results
This was super yummy. I cooked or compiled the three components separately and kept them in bags in the refrigerator until I was ready to serve it. That worked out really well; everyone was able to get the various amounts they wanted of each item. The kids absolutely devoured the bacony beans. They put a pretty good dent in the vegetables and sauce, too. My favorite parts were the beans and the cauliflower.
This post is shared with Simple Lives Thursday, Tip Day Thursday, Frugal Food Thursday, Recipe Swap Thursday,Recipes I Can't Wait to Try, Things I Love Thursday, It's a Keeper, Full Plate Thursday, and Ultimate Recipe Swap.
The Super Easy Vegetarian Slow Cooker Cookbook
Want vegetarian and vegan recipes you'll love? Check out my first cookbook! I'm so excited about it and I hope you'll love it. You can find more information about it right
HERE
.