As an Amazon Associate, I earn from qualifying purchases.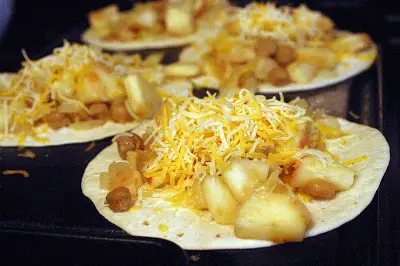 Day 267.
I've always been nervous, but intrigued by the Apple-Chicken flavor combination. I'm finally biting the bullet and giving it a shot. Quesadillas are a pretty sure-fire meal in our house, so it seemed a good option with which to test the Apple-Chicken combo.
I replaced the chicken with chickpeas. I received Gypsy peppers in my CSA box, so I used those instead of buying a bell pepper. I think either would work fine.
Apple Chickpea Quesadillas
Ingredients
2 medium apples, diced
1 cup chickpeas or other chicken substitute, cooked
4 ounces Mexican cheese, shredded
1 teaspoon olive oil
1 large onion, chopped
1 bell or gypsy pepper, diced
salt, to taste
8-10 tortillas
Directions
Saute onion and pepper in oil for a couple of minutes until soft. Add apples, chickpeas and salt. Stir to combine. Lay half of tortillas onto greased grill or griddle. Top with half of cheese. Divide apple-chickpea filling among tortillas. Top with remaining cheese and remaining tortillas. Grill for about 3-5 minutes per side.
The Results
Unfortunately, I don't think the apple-chicken flavor combination translates to the veggie version. Perhaps if I'd used seitan or something more "chickeny" than chickpeas. But this was pretty much a disaster in my mind. The kids picked at theirs and ended up eating at least one each, but with nowhere near the gusto they usually put forth eating quesadillas. My husband and I just thought they were kind of weird. But, it's the first huge failure in a while and I think it would be better with mock chicken. That said, I think I'm just not a fan of apples and "meat" together. With real meat, it might be different.
The Super Easy Vegetarian Slow Cooker Cookbook
Want vegetarian and vegan recipes you'll love? Check out my first cookbook! I'm so excited about it and I hope you'll love it. You can find more information about it right
HERE
.