As an Amazon Associate, I earn from qualifying purchases.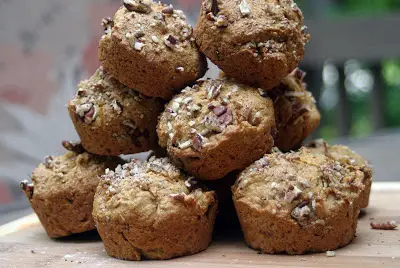 Day 162.
Zucchini muffins bring back memories. When I was a kid, we moved around a lot because my dad worked for the Air Force. I vividly recall our house in Colorado, primarily because of the awesome garden my parents built in the backyard. They bordered it in railroad ties and filled it with fantastic veggies. So, when I got a yellow zucchini in my CSA box (though I've only ever had green previously), I knew I wanted to make zucchini bread.
The zucchini bread we had when I was little was simple. Zucchini in a hearty lightly spiced bread. It didn't have nuts like most do now, but it was fantastic. My mom, though not a vegan nor even a vegetarian then or now, very often used zucchini or applesauce in a recipe in place of eggs or oil for moisture. She's just cool like that. She made some kickin' zucchini brownies, too.
I branched out a bit with this recipe, inspired by both my mom and Heidi from 101 Cookbooks. Vegan Zucchini Muffins made with applesauce, spices (including a bit of curry, wow!) and pecans.
Zucchini Muffins, Vegan
Adapted from Zucchini Bread.
Ingredients
3/4 cups chopped pecans, plus a few to sprinkle on top
1/4 cup margarine
1/2 cup sugar
1/4 cup brown sugar, lightly packed
1/3 cup applesauce
1 teaspoon vanilla extract
1.5 cups grated zucchini (about 1 large), skins on, squeeze some of the moisture out and then fluff it up again before using
1.5 cups whole wheat pastry flour (or all-purpose flour)
.75 teaspoons baking soda
1/4 teaspoon baking powder
1/2 teaspoon salt
1/2 teaspoon cinnamon
1 teaspoon curry powder (optional)
Makes 10-12 muffins
Directions
Preheat your oven to 350°F. Line or grease muffin tin.
In a mixer, combine butter and sugars and beat again until mixture comes together and is no longer crumbly. Add the applesauce. Stir in the vanilla and then the zucchini (low speed if you are using a mixer).
In a separate bowl, combine the whole wheat pastry flour, baking soda, baking powder, salt, cinnamon, and curry powder. Add these dry ingredients to the wet ingredients in two batches, stirring between each addition.
By hand, fold in the walnuts or pecans. Save a bit of this to sprinkle on the tops of the zucchini muffins before baking for a bit of texture.
Fill muffins about 2/3 full. Bake for about 30-35 minutes on a middle oven rack. Remove from the oven and cool about 10 minutes. Turn out onto wire racks to finish cooling.
The Results
We all absolutely loved these. Delicious and moist (and good for you). In spite of all the spices, they still have a sweet overall flavor, much like a carrot cake. We will definitely be making these again. Yum. I only recently discovered Whole Wheat Pastry Flour (I use Bob's Red Mill). It has a great flavor, not at all like wheat bread like you might expect.
This post is shared with What's for Lunch Wednesday and Muffin Tin Monday.
The Super Easy Vegetarian Slow Cooker Cookbook
Want vegetarian and vegan recipes you'll love? Check out my first cookbook! I'm so excited about it and I hope you'll love it. You can find more information about it right
HERE
.