As an Amazon Associate, I earn from qualifying purchases.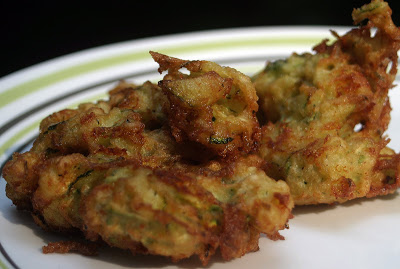 Day 228.
I love zucchini. And, let's be honest, fried things are just yummy (in moderation, of course). I love fried okra and vegetable tempura. This promises to be tasty.
Zucchini Fritters
Adapted from Zucchini Fritters.
Ingredients
6 zucchinis (about 7 cups), shredded
3 cups flour
2 portions egg substitue
1/2 cup shredded Mozzarella (vegan, if desired)
1 teaspoon powdered vegetable bouillon
House seasoning, to taste
Vegetable oil for frying
2 cloves of garlic, halved
Directions
In a large bowl place the shredded zucchini, flour, "eggs," cheese, bouillon and House seasoning. Mix together well.
Heat a large frying pan with about 1/4 inch of vegetable oil and the garlic. Using a teaspoon carefully place the zucchini mixture in the oil. When one side is golden, carefully turn over the fritter, turning only once.
Place the fritters on a platter lined with a paper towel.
Results
Wow. These are incredible. The veggie bouillon flavor and the crispy fried zucchini are absolutely fantastic. This is a definite repeat. I thought, "hm, that sounds like it could be pretty good." But, no, it's not just pretty good, it's fantastic. I absolutely love this.
This post is shared at·Tuesdays at the Table,·Slightly Indulgent Tuesday,·Tasty Tuesday, Delectable Tuesday,·Tempt My Tummy Tuesday,·Delicious Dishes,·Real Food Wednesday, Recipe of the Week, Hearth and Soul, and Tasty Tuesday.
The Super Easy Vegetarian Slow Cooker Cookbook
Want vegetarian and vegan recipes you'll love? Check out my first cookbook! I'm so excited about it and I hope you'll love it. You can find more information about it right
HERE
.