As an Amazon Associate, I earn from qualifying purchases.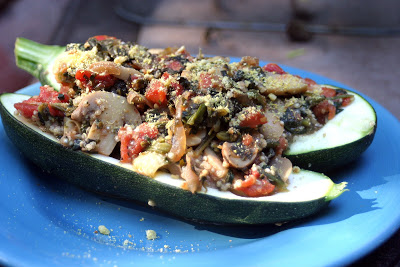 Day 236.
Vegan zucchini boats are what's for lunch today! I absolutely love zucchini. And then you tell me I can make it into a cute little boat and stuff it with more yummy summer veggies? Sold. Most of these veggies came from my CSA box since my garden went in a little late this year.
But if your garden was on-time, this would be an excellent way to use those fantastic fresh vegetables that are ripening up around now. This is another of my freezer meals from the that I pulled out in our continued vacation recovery saga. So simple to prepare the day of serving or ahead of time to freeze and reheat.
Zucchini Boats
Adapted from Zucchini Boats.
Ingredients
1 cup quinoa
 4 large zucchini
3 cups chopped spinach
2 cloves garlic, minced
1 onion, chopped
2 cups mushrooms, sliced
2 teaspoons olive oil
3 roma tomatoes, diced
1 tablespoon fresh basil, chopped
1 tablespoon parsley, chopped
1 tablespoon oregano
1/2 cup chopped walnuts
1/2 cup Parmesan cheese substitute
rice wine vinegar (optional)
Directions
Cut the zucchini in half lengthwise, and scoop out the center, reserving the scooped portion for the filling.  Put the zucchini on a cookie sheet and bake on 350 degrees for 10 minutes until soft.
While your zucchini is cooking make your quinoa.  Put quinoa in a pot with amount of water listed on  package directions.  Bring to a boil.  Cover with a lid, and let simmer for about 15 minutes.  Remove from heat and let sit 5 minutes. While quinoa is cooking start preparing the veggies. In a large pan put the oil, onion, and garlic. When onions are soft, add mushrooms and the zucchini you scooped out at the beginning.  After mushrooms are soft, add spinach and tomatoes. Once spinach is wilted, remove from heat.  If desired, add a dash of salt and a splash of rice wine vinegar to taste and stir in. Stir in Parmesan cheese substitute.
Fill each zucchini boat with the quinoa veggie filling. Sprinkle the tops of each boat with the rest of the cheese.  Flash freeze. And cover with plastic wrap to ensure that they stay together when in freezer.
If freezing, place in freezer bags and freeze at this point. To serve: Heat in oven at 350 for 20 minutes, or until zucchini is tender to touch.
The Results
These were delicious. The kids didn't eat their boats, but loved the filling. I am unashamed to say I gobbled mine up boat and all. The boats are so creative and the filling is fantastic.
This post is shared with Real Food Wednesday, Recipes I Can't Wait to Try, What's Cooking Wednesday, What's on Your Plate?, What's on the Menu Wednesday, Let's Do Brunch, Works for me Wednesday, Gold Star Wednesday, These Chicks Cooked, Foodie Wednesday, Cast Party Wednesday and No Whine Wednesday.
The Super Easy Vegetarian Slow Cooker Cookbook
Want vegetarian and vegan recipes you'll love? Check out my first cookbook! I'm so excited about it and I hope you'll love it. You can find more information about it right
HERE
.