As an Amazon Associate, I earn from qualifying purchases.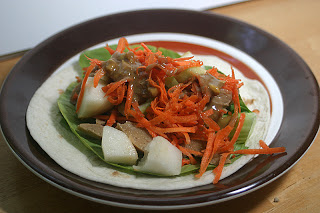 Day 298.
I was so excited about trying this recipe. It's something completely different than my usual fare. I love wasabi with sushi, but I've never tried a wasabi sauce or marinade. And then there's the veggies and fruits as toppings on a fajita: pear, carrot and bok choy. That's new and different, right? "This could be fabulous," I thought. So, I went out of my comfy place and tried it. And immediately wanted to go back to my comfy place. I won't bore you with a lot of details, because this one is a total failure. It's been a while since I've had a complete epic failure. Lately, at least one person in the family has liked each dish. But this one, this is terrible.
And, it's all my fault. I couldn't find the wasabi finishing sauce used in the original recipe (not to mention I have no idea whether it's vegan), so I thought, "meh, I can make something up." So…I tried this Japanese Wasabi Marinade Recipe, which might be good if you have all the ingredients. I saw elsewhere I could sub in sherry for the sake, so I did. I also added a tablespoon of cornstarch and simmered it down a bit to thicken it so it could be drizzled over the "meat." Well, it was awful. Thankfully, I tasted the sauce before preparing the rest of the recipe so I didn't ruin an entire batch of seitan (which I chopped into "shreds" to emulate the shredded pork).
Of course, I thought, "well, maybe it will be good all together," and, after all, I'd already chopped all the vegetables and fruits for the fajitas. I made up one fajita to test that theory. I took a bite without the sauce: pretty good, a little weird, but not awful. Then I added the sauce. First thought: "holy excrement did I just eat an entire rotten ginger root?" This is not a good thought to have after biting into your dinner. Needless to say, I did not make up the rest of the fajitas. But of course, finding failures in converting is part of the process of my 2011 challenge. So I'll just say, don't try this at home.
Wasabi Pork Fajitas
Ingredients
8 ounces seitan, cooked and chopped into mock meat shreds
6-8 large fajita wraps
1 pound baby bok choy (leaves whole and stalks diced)
1 cup carrots, shredded
1 1/2  cup bean sprouts
1 Asian pear (peeled and diced)
Japanese Wasabi Marinade with 1 tablespoon cornstarch mixed in, heated to thicken
Directions
Serve family style. To compile, top fajita with 1-2 bok choy leaves, vegetables and pear. Drizzle fajita with wasabi marinade. Roll up your fajita and eat.
The Results
The good news is the kids and I had a great time eating all the toppings from this meal. We served the chopped fruits and vegetables bento style with a bit of veggie dip for our snack. But, overall, the meal itself was a total failure. I warned my husband before asking him to try it, so he was expecting that it might not be good. Yet the look on his face after taking a bite was still one of complete horror.
The Super Easy Vegetarian Slow Cooker Cookbook
Want vegetarian and vegan recipes you'll love? Check out my first cookbook! I'm so excited about it and I hope you'll love it. You can find more information about it right
HERE
.