As an Amazon Associate, I earn from qualifying purchases.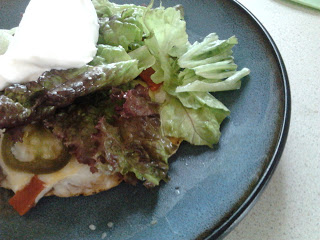 Day 97.
Yay! It's leftover day and we're having Vegetarian Ranchero Tostadas. My allergy-brain loves leftover day! So simple. Leftovers + tostadas = fantastically simple and delicious dinner. Yum. With our lean budget at the end of March, we didn't have a ton leftover. I scrounged up leftover beans and ranchero sauce for this simple meal.
Vegetarian Ranchero Tostadas
Ingredients
Tostadas (fry your own or buy pre-cooked tostadas)
Refried black beans (I made my own in the slow cooker)
Ranchero sauce (leftover from Benedict Rancheros; you could sub salsa)
Mexican cheese
Hot olive mix (or regular jalepenos and olives)
Shredded leaf lettuce
Sour cream
Directions
Layer your tostadas with beans, cheese and ranchero sauce. Bake at 400 for about 10 minutes (or microwave for 2). Top with shredded lettuce and a dollop of sour cream. Eat. Smile.
The Results
So incredibly good and simple. The ranchero sauce is really fantastic, but I'm sure it'd be good with salsa, too. I love tostadas. The best thing about these (and quesadillas, too) is that you can pretty much slap anything you like on top and it would be delicious.
What's your favorite homemade "fast food"?
Project Food Budget:
Hooray for a new month! Our budget is $300/month or $75/week. We spent $38 on our CSA box on this fresh month. So we're still well under, but will likely have a big shopping trip over the weekend to restock our pantry, which was depleted in the lean final week of the last month.
Goal: $75
Actual: $38
Participating Blogs:
This post is shared with Simple Lives Thursday, Tip Day Thursday, Frugal Food Thursday, Recipe Swap Thursday,Recipes I Can't Wait to Try, Things I Love Thursday, It's a Keeper, Full Plate Thursday, Grocery Cart Challenge, Cooking Thursday and Ultimate Recipe Swap.
The Super Easy Vegetarian Slow Cooker Cookbook
Want vegetarian and vegan recipes you'll love? Check out my first cookbook! I'm so excited about it and I hope you'll love it. You can find more information about it right
HERE
.