As an Amazon Associate, I earn from qualifying purchases.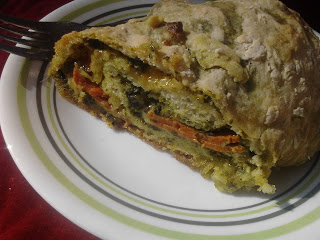 Day 49.
This poor recipe was supposed to be made quite some time ago, then we were hit with a no-dairy requirement for a week and the next time it was scheduled, it was preempted due to Once-a-Month-Cooking exhaustion. But finally, here we go, Pesto Stromboli. 
Crust:
2 1/2-3 C flour
2 1/4 tsp. yeast
1 Tbsp. olive oil
1 tsp. sugar
1/2 tsp. salt
3/4 C warm water
Toppings:
reduced fat mozzarella (about 1 C or more to taste)
vegan pepperoni
pesto sauce (about 1 1/2 C)
Add more items to taste
Directions
To make the crust:
Heat your water until its warm enough to stick your pinkie in it comfortably for a second or two. About 110-115 degrees if you want to use a thermometer. Then mix in the sugar and yeast and let it sit about 10 minutes until the yeast is foamy. (If it doesn't get foamy then your water was too hot or not hot enough)
In the meantime mix 2 1/2 cups flour and salt. Once the yeast mixture is ready then add the yeast mixture and water to the flour. Stir until it forms a nice ball. Keep adding flour until the dough forms a ball.
Knead by hand or with a dough hook for about 5 minutes. Let the dough rest, covered, for 10 minutes. Then roll out the dough on a floured surface to form an oval.
Spread on pesto and sprinkle with your desired toppings.
Roll it up and then fold the end edges under.
Flip it over and place it on a cookie sheet coated with cooking spray (seam side down.) Slice a few slits in the top to let steam escape when it is baking.
Cover with a towel and let it rise until doubled in size (30 minutes to an hour). Preheat oven to 350 and bake at 350 for 30-35 minutes or until lightly browned.
The Results
So worth the wait. This was a delicious stromboli; the firs I've ever made. But it's pretty similar to calzones and pizza, just in a different form. My husband snuck some real pepperoni onto his side, but he said he liked it both ways. 
What's the last recipe you waited a long time to try? Was it worth the wait or a build-up to disappointment?
The Super Easy Vegetarian Slow Cooker Cookbook
Want vegetarian and vegan recipes you'll love? Check out my first cookbook! I'm so excited about it and I hope you'll love it. You can find more information about it right
HERE
.