As an Amazon Associate, I earn from qualifying purchases.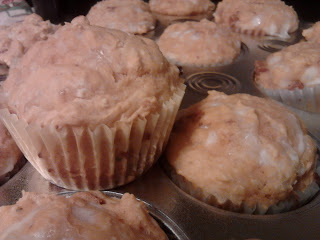 Day 127.
I was perusing the Gluten-Free recipes for the month and found these super yummy sounding Pizza Muffins. But, I totally wussed out on the gluten-free baking (not to mention I didn't make it to the grocery store). So instead I made gluten-full vegetarian pizza muffins. Hopefully they'll be just as tasty.
Pepperoni Pizza Muffins
Adapted from Pepperoni Pizza Muffins.
Ingredients
3 C Bisquik/baking mix
10.75 ounces condensed tomato soup, undiluted (or you can reduce some pasta sauce on the stovetop)
3/4 C water
1/2 C mozzarella cheese, shredded
1/2 C cheddar cheese, shredded
1/2 C vegan pepperoni, diced
2 Tbsp. black olives, chopped
1 Tbsp. dried minced onion
1 tsp. Italian seasoning
Directions
Place biscuit mix in a large bowl. Combine the remaining ingredients; stir into biscuit mix just until moistened. Fill greased muffin cups three-fourths full.
Bake at 350° for 17-20 minutes or until a toothpick inserted near the center comes out clean. Cool for 5 minutes before removing from pans to wire racks. Serve warm. Refrigerate leftovers. Yield: About 18 muffins.
The Results
Mmm…pizza. This tastes a lot like good deli pepperoni bread or pepperoni rolls. The closest thing I can compare them to locally is Baldino's pepperoni bread. I really like it. It's super simple and tasty. A great, easy lunch for the kids, too.
This post is shared with What's for Lunch Wednesday and Muffin Tin Monday.
The Super Easy Vegetarian Slow Cooker Cookbook
Want vegetarian and vegan recipes you'll love? Check out my first cookbook! I'm so excited about it and I hope you'll love it. You can find more information about it right
HERE
.