As an Amazon Associate, I earn from qualifying purchases.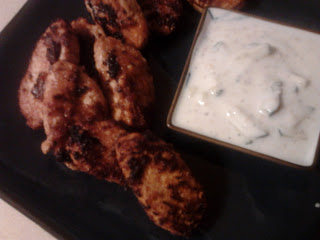 Day 120.
Mmm….chicken wings. I love buffalo wings, well, the meatless kind. And these chile chicken wings just sound excellent. The creamy cucumber dip sounded so much like tzatziki I just converted the recipe to a simple tzatziki sauce. Yum.
Vegetarian Chile Chicken Wings with Tzatziki
Adapted from Chile Chicken Wings with Creamy Cucumbers.
Ingredients
For the Chile Chicken Wings:
1/2 C buffalo wing sauce
2 tsp. sriracha sauce
2 Tbsp. tahini (sesame seed paste) or peanut butter
1 tsp. rice vinegar
1 tsp. soy sauce
1 tsp. chopped garlic
1 tsp. chopped fresh ginger
2 C vegan "chicken" strips or pieces
Canola oil, for deep-frying
Cilantro leaves
Sliced scallion
For the Creamy Cucumbers:
1 English (hothouse) cucumber
1 Tbsp. kosher salt
1/2 C Greek yogurt
2 garlic cloves, minced
1/4 tsp.dill
Juice of 1 lemon
1/4 tsp. freshly ground black pepper
Directions
To make the Chile Chicken Wings: Combine the sriracha, buffalo wing sauce, tahini, vinegar, soy, garlic, and ginger in a blender and process on high speed for 10 seconds. Set the chile sauce aside until ready to use or refrigerate for up to 1 week. Use about 1/2 of sauce to coat wings.
Heat 2 inches of oil to 350°F in a countertop electric fryer or deep pot.
Carefully add the wings to the hot oil and fry in batches until they are crispy, 5-7 minutes. Transfer the wings to a large bowl. Add enough of the remaining chile sauce to coat and toss well.
To serve, arrange the wings on a platter and garnish with cilantro and scallion. Serve immediately with the creamy cucumbers and the remaining chile sauce on the side for dipping.
Dice cucumber. Put the cucumber in a medium stainless steel or glass bowl; add the salt and mix thoroughly to combine. Set aside for 10 to 15 minutes. Add the yogurt, garlic, dill, and lemon juice. Toss to combine; season with the pepper. Refrigerate until ready to use or for up to 2 days.
The Results
So, I can't really read directions. And also I didn't have all the original ingredients, so I ended up making a lot of originally unintended changes to these wings. But they were freaking fantastic. I'm pretty sure I could eat a bowl of that chile peanut butter sauce, followed up by a bowl of the tzatziki.
And I used gardein "wings" for the chicken and they were awesome also. They fried up really well. I completely did this recipe. I'll have to remember these for Father's Day. These vegetarian chile chicken wings would be a great lounge around and watch a game on TV kind of meal.
Tzatziki fan? Try it with falafel too!
This post is shared with What's for Lunch Wednesday and Muffin Tin Monday.
The Super Easy Vegetarian Slow Cooker Cookbook
Want vegetarian and vegan recipes you'll love? Check out my first cookbook! I'm so excited about it and I hope you'll love it. You can find more information about it right
HERE
.