As an Amazon Associate, I earn from qualifying purchases.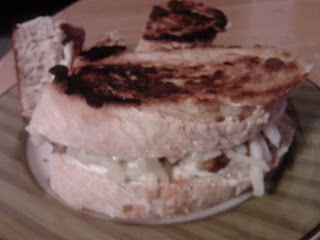 Day 96.
Today we're having Vegetarian BBQ Cheese Melts. So, this was originally a ham & swiss melt recipe. But, my husband doesn't really like Swiss, so I switched that to mozzarella. Then, when it came time to make it, I couldn't find my leftover vegan ham loaf, so I ended up using diced chicken wings. But hey, it's the thought that counts, right?
Vegetarian BBQ Cheese Melts
Ingredients
8 slices light bread
1 package "chikn" wings, diced (I used LightLife's honey BBQ flavor)
4 oz. mozzarella cheese (1 ounce per slice)
cooking spray
1/4 C sour cream
2 tablespoons Dijon mustard
1 teaspoon garlic powder
Directions
Heat pan on medium high heat. In a small bowl, combine sour cream, mustard, and garlic powder until well blended. Spread mixture on 4 slices of the light bread, then top with 2 ounces of wings, 1 ounce of  cheese, and another piece of bread. Reduce heat to medium and spray pan with non-stick cooking spray. Place sandwich on pan and heat until bread browns (about 3 minutes). Use spatula to remove sandwich from pan, spray the pan with non-stick cooking spray again and then flip the sandwich to brown other side (about 3 minutes).
The Results
It sounded weird at first, but that sour cream-mustard-garlic spread is fantastic! And it goes super well with the Honey BBQ sauce. Yummmm. I love these sandwiches. Quick and delicious.
What's your favorite melty sandwich?
This post is shared with Real Food Wednesday, Recipes I Can't Wait to Try, What's Cooking Wednesday, What's on Your Plate?, What's on the Menu Wednesday, Let's Do Brunch, Works for me Wednesday, Gold Star Wednesday and No Whine Wednesday.
The Super Easy Vegetarian Slow Cooker Cookbook
Want vegetarian and vegan recipes you'll love? Check out my first cookbook! I'm so excited about it and I hope you'll love it. You can find more information about it right
HERE
.