As an Amazon Associate, I earn from qualifying purchases.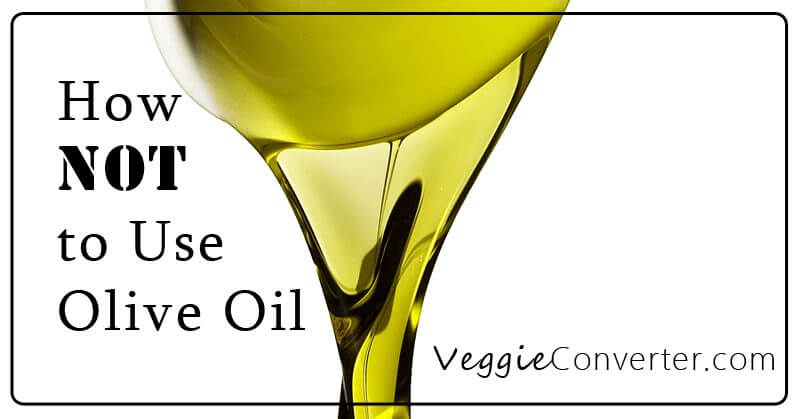 How should you use olive oil? And are there times when you should not use it?
Olive oil is delicious and healthy when used in many ways—from flavoring your salad greens to preventing wrinkles on your face.
It's full of natural antioxidants, vitamins A, D and E, flaconoids and polyphenols.
But, unfortunately olive oil has a bad side, too. Lately it's gotten a bad reputation as being scam-worthy, meaning you need to know whether your olive oil is fake.
It's also been made clear to me in recent years that you just shouldn't cook with olive oil at high temperatures.
Not only do high temps make olive oil's fats unstable, but the good stuff about olive oil also is harmed by heat:
Because of its low smoke point, heating olive oil creates toxic smoke that you'll breathe in while cooking.
The omega 3 fatty acids and polyphenols are damaged or destroyed by heat.
If your olive oil isn't pure, it can be cut with heavily processed vegetable oils.
Italy is fighting back against olive oil's troubles with a campaign funded by the European Union, the Italian Department of Agriculture and Unaprol, an organization that represents olive growers and producers.
"Flavor Your Life" plans to increase awareness and consumption of high quality pure olive oils through education on origin, production, traceability and use in cooking.
The campaign plans big activities like participation in trade shows and smaller activities like in-store tastings at whole sale clubs.
In addition to its usual pure olive oil, my local wholesale club is touting premium, traceable, 100% Italian 100% organic olive oil.
How NOT to Use Olive Oil
In spite of this campaign, there are several ways NOT to use your olive oil:
Most importantly, do NOT use olive oil for cooking at high heat.Even pure olive oil has a low smoke point.
Olive oil is best consumed raw and uncooked to protect its nutrients and fats.Butter is the much better option to cook with, or ghee as it has a higher smoke point.
While it's not toxic at low heats, cooking olive oil even at low temperatures breaks down its healthy fats and polyphenols.
Never fear.
You can still benefit from all the wonderful traits of pure olive oil.
Use olive oil in raw preparations such as salad oils and infused oils.
And, it's great as a beauty product ingredient, like in this wrinkle-reducing olive oil face mask.
Related Olive Oil Posts
How to Choose the Healthiest Olive Oil
Which is Healthier: Butter or Olive Oil?
Making & Using Herbal Infused Oils: Calendula & Olive Oil
5 Reasons to Stop Cooking with Olive Oil
Need a great source for pure, healthy oils? Buy it here.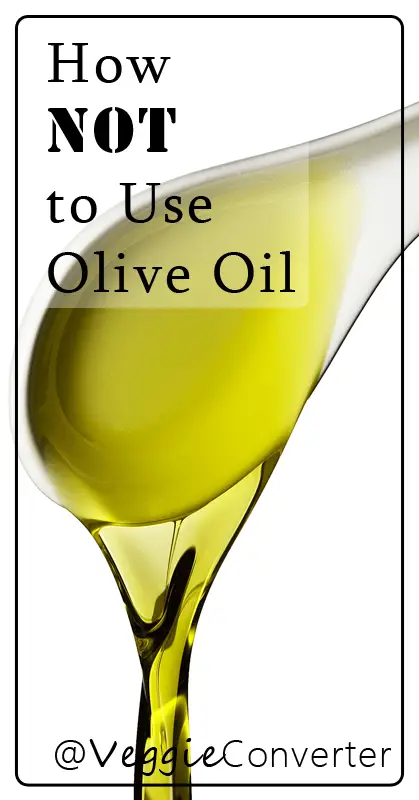 The Super Easy Vegetarian Slow Cooker Cookbook
Want vegetarian and vegan recipes you'll love? Check out my first cookbook! I'm so excited about it and I hope you'll love it. You can find more information about it right
HERE
.