As an Amazon Associate, I earn from qualifying purchases.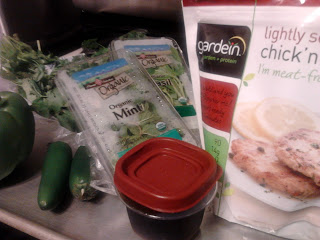 Day 141.
Thai chicken karaage is on the menu today. I'm at BlogHer again today and really enjoying meeting other Bloggers and discovering new recipe techniques. One of the sessions was right up my alley yesterday. It was all about cooking without recipes.
And, big secret here, I rarely closely follow recipes exactly (yes, even my own)…I admit it. My name is Kristi and I'm a toss-in cook. Leftover creation Thursday is my favorite day because I can throw in everything with impunity. But, the important part, as I have discovered and was reiterated at the BlogHer Food Sessions, is taking copious notes during these "recipe development" sessions. Otherwise, no one else (and really even me for repeat meals) can enjoy the yummy create-a-recipe.
So, here's what I'm planning on cooking tonight when I return from BlogHer Food. Check back for what REALLY ends up on my plate late this evening.
Thai Chicken Karaage
Ingredients
For the brine:
1 cup vegan fish sauce
(recipe follows)
1 cup white vinegar
1 cup sugar
1 head garlic, cloves separated and minced
4 Thai chiles, coarsely chopped
1 package Gardein "chikn" scallopiniTo cook and serve:
Canola oil, for frying
1 cup cornstarch
1/4 onion, thinly sliced
2 jalapeños, thinly sliced
1 cup chile sauce, such as Mae Ploy brand
Salt
12 fresh cilantro leaves, torn
6 fresh mint leaves, torn
6 fresh basil leaves, torn
Vegan Nam Pla (Thai Fish sauce)
1 1/3 cup water
2/3 cup soy sauce
Six 1½ inch pieces kelp
1 sun dried tomato (dry, not oil marinated)
Directions
To make the brine, combine all of the ingredients. Set aside 1 cup of the brine for use later. Add the "chikn"  to the remaining brine, cover, and refrigerate for 24 hours.
Remove the chikn from the brine and place the pieces in a strainer or colander, letting the excess brine drain off. Discard the brine.
Pour enough oil into a deep pot or countertop fryer to cover the chikn and heat to 370°F. Dust the chicken generously with cornstarch and fry until golden brown. Remove chikn to a large bowl. Add the onion, jalapeños, the reserved 1 cup brine, and the chile sauce, toss to coat, and season with salt to taste. Garnish with the cilantro, mint, and basil and serve.
The Results
Pretty good, but a lot of work for just an OK meal in my opinion.This post is shared with
What's for Lunch Wednesday
and
Muffin Tin Monday
.
The Super Easy Vegetarian Slow Cooker Cookbook
Want vegetarian and vegan recipes you'll love? Check out my first cookbook! I'm so excited about it and I hope you'll love it. You can find more information about it right
HERE
.