As an Amazon Associate, I earn from qualifying purchases.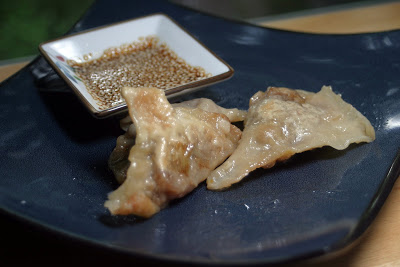 Day 205.
Squash wontons are up today. I tend to find delicious wonton and dumpling recipes on a fairly regular basis. I really love dumplings (somehow in spite of the fact that I have to fry them initially before steaming them and I HATE frying).
But I never, ever have eggroll or wonton wrappers in the house. So, I make my own. Plus, apparently most store-bought versions are not vegan. I'm not vegan myself, but it seems odd to have unnecessary dairy in these wraps. My recipe simply uses flour, water, salt and cornstarch. Of course, I found another delicious recipe, using butternut squash. I happened to have half of a large squash leftover from another recipe, so I decided to try these out.
Squash Wontons
Adapted from Squash Wontons.
Ingredients
1 pound butternut squash, peeled and seeded, flesh cut into 1/2-inch pieces
3/4 cup soy sauce
3 tablespoons packed brown sugar
1/4 teaspoon salt
3 scallions, white and pale-green parts only, thinly sliced
1 teaspoon grated peeled fresh ginger
1 teaspoon sesame seeds
20 wonton wrappers, thawed if frozen
1/4 cup canola oil
Directions:
Put squash, soy sauce, sugar, and salt in a medium saucepan. Cover with water (I used about 1 cup); bring to a boil over medium-high heat. Cook until squash is very soft, about 12 minutes. Drain liquid into another container. Transfer squash to a medium bowl; mash with a fork until smooth, adding back about half the liquid. Stir in scallions and ginger. Stir together remaining liquid and sesame seeds; set sauce aside.
Place 1 scant tablespoon filling in the center of each wrapper; brush edges with water. Bring up corners to make a triangle; press to seal. Place on a baking sheet; freeze until firm, 10 to 15 minutes.
Heat 2 tablespoons oil in a large nonstick skillet over medium heat until hot but not smoking. Add 10 potstickers, and cook, shaking pan frequently, until bottoms are golden brown. Turn pot stickers over; very carefully pour in 1/2 cup water, and cover. Steam until most liquid is evaporated, 2 to 3 minutes. Transfer to a serving dish; cover with foil to keep warm. Repeat with remaining oil and pot stickers. Serve with dipping sauce.
The Results
I cannot overstate how incredible these are. I'll be honest, I primarily made these because I had that squash in the fridge waiting for something to be done with it. I thought, hey, these sound like they could be good. I love butternut squash, my husband likes it, but not as much as I do. So I really thought I'd like them and he'd probably just think they were OK. We both shamelessly devoured our wontons and made a second batch later that day. These are seriously delicious. And the wonton wrappers are pretty easy, too.
What are you having for Sunday Brunch, Breakfast or Lunch?
This post is shared at Penny Worthy Project, Cookbook Sundays, Savory Sunday, Fresh Food Friday and·Potluck Sunday.
The Super Easy Vegetarian Slow Cooker Cookbook
Want vegetarian and vegan recipes you'll love? Check out my first cookbook! I'm so excited about it and I hope you'll love it. You can find more information about it right
HERE
.