As an Amazon Associate, I earn from qualifying purchases.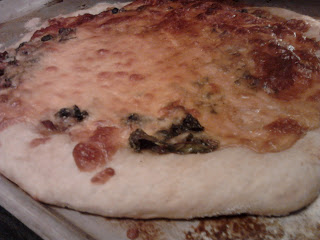 Day 93.
We're having squash and kale pizza tonight. I received a buttercup squash in my CSA box last week. No, I didn't typo butternut. It's buttercup. Don't feel bad, I'd never heard of it either. As it turns out, it's kind of like a tiny version of butternut. So, yes, yum.
I've been seeing a lot of squash or potato pizzas lately and, when I saw I had kale in the box, too, I knew what I'd be making. If I'd had red onions, I think those would've gone well, too. But this is pretty fantastic sounding regardless. Enjoy.
Squash and Kale Pizza
Ingredients
Pizza Dough/Crust (I use Betty Crocker's version)
2 C Mozzarella
1 cooked buttercup squash (or squash of choice: pumpkin, butternut or even sweet potatoes would work)
3 cloves garlic, minced
1 bunch kale, chopped
1/4 C sliced mushrooms
1/4 C olive oil
2-3 Tbsp. soy sauce
1 Tbsp. Montreal steak seasoning
2 tsp. bacon salt
1/2 medium onion, diced
House seasoning, to taste
Directions
Prepare dough and set aside. Cook olive oil, garlic and onions on stove top until onions begin to brown. Add mushrooms, kale and remaining seasoning. Cook for about 15-20 minutes until kale is wilted and pizza-ready. Meanwhile, spread squash onto dough as if it were the sauce.
When kale mixture is done, add that on top of the squash. Top with mozzarella cheese and bake at 425 for 15-20 minutes.
The Results
Holy cowabunga, this is fantastic. Why didn't I do this a long time ago? Seriously delicious.
What are you having for Sunday Brunch, Breakfast or Lunch?
This post is shared at·Sundays at One Food Club, Just Something I Whipped Up, Penny Worthy Project, Cookbook Sundays·and·Potluck Sunday.
The Super Easy Vegetarian Slow Cooker Cookbook
Want vegetarian and vegan recipes you'll love? Check out my first cookbook! I'm so excited about it and I hope you'll love it. You can find more information about it right
HERE
.