As an Amazon Associate, I earn from qualifying purchases.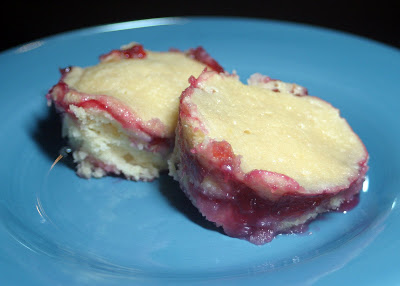 Day 212.
Since I'm in pantry challenge mode, I wanted to clear out a few of those half-empty containers of condiments in the refrigerator.
This recipe dealt with both sour cream and Stone Fruit Jam. Double win.
Plus, it sounds delicious and could make a great breakfast for the kiddos.
Sour Cream Jam Muffins
Adapted from Sour Cream Jam Muffins.
Ingredients
1/2 cup butter, softened*
1 cup sugar
1 egg*
1 cup flour
3/4 teaspoon baking powder
1/4 teaspoon salt
1/2 cup sour cream*
2 teaspoons vanilla
Preserves or jam of choice (I used Stone Fruit Jam)
Additional sugar for topping, optional
*Vegan converter: substitute margarine, mashed banana and vegan sour cream

Method 
Beat the butter and sugar together in a mixing bowl until creamed, about 2-3 minutes. Add egg and beat until well combined.
In a small bowl, stir together the flour, baking powder, and salt. In a second small bowl or measuring cup, combine the sour cream and vanilla. Add half the flour and half the sour cream mixture to the mixing bowl and stir just until combined. Repeat with the remaining flour and sour cream, being careful not to overmix.
Grease and flour a muffin tin, or line with baking cups. Fill muffin cups 1/3 full with the batter. Add a dollop of jam or preserves on top of the batter and then top with remaining muffin batter. Sprinkle additional sugar over the tops of the muffins, if desired, for a crispy muffin top.
Bake at 350 degrees for about 15-20 minutes for mini muffins or  20-25 minutes for regular-sized muffins.
The Results
Well, these are really super tasty, but I either I mixed them too much or overdid something in the recipe. They came out almost too moist and were pretty messy. But, delicious all the same and dealt with our pantry items nicely.
What are you having for Sunday Brunch, Breakfast or Lunch?
This post is shared at Penny Worthy Project, Cookbook Sundays, Savory Sunday·and·Potluck Sunday.
The Super Easy Vegetarian Slow Cooker Cookbook
Want vegetarian and vegan recipes you'll love? Check out my first cookbook! I'm so excited about it and I hope you'll love it. You can find more information about it right
HERE
.