As an Amazon Associate, I earn from qualifying purchases.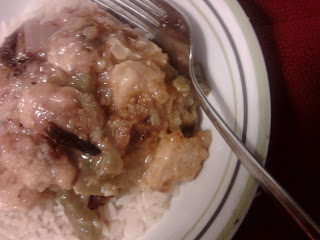 Day 138.
Vegan sweet and sour chicken is on today's agenda. Sometimes I get some pretty neat stuff in the mail. I don't really do reviews here, but, if someone's going to send me free food, I usually try it out. And, sometimes, it ends up in a recipe.
This one is pretty cool. Darrell Lea, which apparently, according to an Aussie friend of mine, really IS Australia's favorite liquorice, sent me four flavors of "soft-eating" liquorice recently. I received Mango, Strawberry, Green Apple and Black liquorice.
At first I wasn't sure if I could incorporate these into a savory recipe. Ideas floated around about desserts while I happily munched on a few pieces of the strawberry flavor (delicious by the way, and I dig the softness compared to the usual American-style candy). Then I thought of this recipe from the Crockpot lady: Brown Sugar Chicken. My husband loves this recipe with real chicken, but we add diced bell peppers and onions. So I guess our version is more Sweet and Sour Chicken.
Sweet and Sour Chicken
Adapted from Brown Sugar Chicken and Sweet and Sour Chicken.
Ingredients
For the Chicken:
Chicken Nuggets
Alternately, you can pan-brown a bag of Quorn chicken tenders dredged in egg and cornstarch.
For the Sauce:
4-6 pieces mango-flavored liquorice (or sub 1/2 C brown sugar or equivalent jolly ranchers)
4 Tbsp. ketchup
1/2 C vinegar (rice or white)
1/4 C lemon lime or gingerale soda
1 Tbsp. soy sauce
3 cloves garlic, minced
1/2 onion, diced
1/2 bell pepper, diced
Yield: 4 servings
Directions
Place the vegetables in a little dipper or 4 quart slow cooker.
Whisk together the sauce ingredients in a small bowl and pour evenly over the vegetables.
Cover and cook on low for 2-3 hours or on high for 1 hour.
Serve "chicken" over a bowl of white rice with a ladle full of the broth.
The Results
Mmm….delicious. I actually made this two ways to test it. I much preferred NOT putting the crispy chicken in the slow cooker. It was super delicious with the sauce over it at the end. I thought that not cooking it with the onions and peppers might take away from the flavor, but the crispiness was the most important part.
This post is shared with Real Food Wednesday, Recipes I Can't Wait to Try, What's Cooking Wednesday, What's on Your Plate?, What's on the Menu Wednesday, Let's Do Brunch, Works for me Wednesday, Gold Star Wednesday and No Whine Wednesday.
The Super Easy Vegetarian Slow Cooker Cookbook
Want vegetarian and vegan recipes you'll love? Check out my first cookbook! I'm so excited about it and I hope you'll love it. You can find more information about it right
HERE
.