As an Amazon Associate, I earn from qualifying purchases.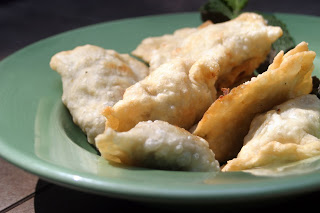 Day 172.
My husband and I love Indian food. Somewhat surprisingly, the kids do, too. While little Goose can't have anything super spicy yet, Bug absolutely loves spicy everything (in moderation, of course). I thought it might be really hard to make Samosas.
They are these perfect little fried cones of goodness filled with potatoes and veggies. I found a recipe in a book that I bought way back in college for less than a dollar (my school had this awesome sale where you could fill a paper grocery bag of books from the bookstore for $1).
It's an awesome Indian Cookbook, but I haven't made a ton of recipes from it, for whatever reason. This one just seemed perfect. I altered the veggies to suit what I had on-hand (the original calls for onions and peas) and adjusted the measurements to the U.S. system from metric.
Samosas
Adapted from Who's Afraid of Indian Cooking?.
Ingredients
Dough:
2 cups flour
1/4 cup oil
water
Filling:
1 potato, cubed
1 small carrot, diced small
1 green pepper, diced small
4 ounces diced green chiles
1 teaspoon lemon juice
1 teaspoon sugar
1 teaspoon garam masala
1 teaspoon coriander
2 teaspoons cumin
House seasoning, to taste
Directions
Mix oil into flour. Add enough cold water to make the dough roll into a ball, but not sticky. Cover dough ball with a damp washcloth and let rest for 15 minutes.
Meanwhile, place potatoes, carrot and green pepper in cold water. Bring to a boil and continue boiling for about 10 minutes (or until potatoes are tender). Drain. Mash into chunky consistency. Mix in remaining ingredients. Set aside.
Divide dough into 12 equal balls. Roll balls out into circles about 5 inches in diameter and 2mm thick. Cut circles in half.
Place a spoonful of filling on one side of each semicircle. Fold circle's flat sides together to form a cone, sealing with a bit of water. Press top seal of each cone together and place samosas on floured surface. The standard method, which I found a bit difficult, is to seal the flat sides together first, forming a cone (see photo above-right). You then stuff the cone and seal the top edge. Whichever way works best for you is appropriate.

Heat frying oil in a deep saucepan and then reduce to medium heat. Fry 4 to 6 samosas at a time until golden brown on both sides (about 3 minutes per side.)
Serve immediately with raita or chutney. To reheat, bake in oven at 350 to warm (about 5 minutes) and then re-fry quickly. Avoid microwaving as this causes mushiness.
Results
Wow. Surprisingly simple and delicious. The kids and I loved these. My husband wasn't present when they were fresh out of the fryer, but he still thought they were super tasty. I love the filling and the crispy dough is so perfect.
This post is shared at·Tuesdays at the Table,·Slightly Indulgent Tuesday,·Tasty Tuesday, Delectable Tuesday,·Tempt My Tummy Tuesday,·Delicious Dishes,·Real Food Wednesday, Recipe of the Week, Hearth and Soul and Tasty Tuesday.

The Super Easy Vegetarian Slow Cooker Cookbook
Want vegetarian and vegan recipes you'll love? Check out my first cookbook! I'm so excited about it and I hope you'll love it. You can find more information about it right
HERE
.