As an Amazon Associate, I earn from qualifying purchases.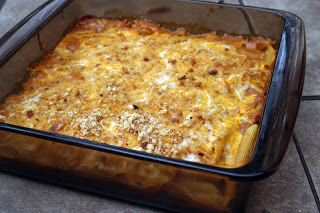 Day 319.
Leftover day came early this week. I just knew that Fire Roasted Eggplant Soup would make a delicious pasta sauce, but I didn't want to do the usual spaghetti noodles topped with sauce. So, I took a cue from some of those Cream of Something Soup and pasta casseroles to create this simple pasta bake.
Roasted Eggplant Pasta Bake
Ingredients for 4 servings
2 cups penne noodles, uncooked (about 1/2 pound)
1.5 cups Fire Roasted Eggplant Soup (OR roasted, pureed eggplant, seasoned to taste)
1 cup milk
1/2 cup cheese, shredded
1/4 cup breadcrumbs
Directions
Preheat oven to 350.
Combine eggplant soup and milk and pour over dry pasta in a sprayed 8 x 8 baking dish. Top with cheese and breadcrumbs. Bake, covered, at 350 for 30 minutes. Uncover and continue baking for 10 minutes.
The Results
Wow. The eggplant-infused noodles are really fantastic. I really like having the flavor of eggplant with the al dente texture of the noodles. It doesn't look all that pretty, but it tastes delicious. The kids gobbled this up like it was mac and cheese and it is filled with all kinds of fantastic nutrients that they wouldn't normally get from mac and cheese or a marinara pasta bake.
The Super Easy Vegetarian Slow Cooker Cookbook
Want vegetarian and vegan recipes you'll love? Check out my first cookbook! I'm so excited about it and I hope you'll love it. You can find more information about it right
HERE
.