As an Amazon Associate, I earn from qualifying purchases.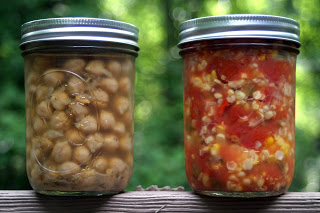 Day 203.
Roasted corn salsa and chickpea burritos? Yes, please. I have been canning a lot this year with our newly expanded garden and our CSA box. Some of my favorites include dried and cooked beans and salsas.
For some bizarre reason I've never tried to refry my chickpeas before. I love making refried black beans (I'm not a big fan of pinto beans) so I don't know why it never occurred to me before to try it with chickpeas. But, talk about simple. I have both main ingredients already sitting in jars on my pantry shelves. Add tortillas and it's a quick and healthy family dinner.
Roasted Corn Salsa & Refried Chickpea Burritos

Refried Chickpeas 
Ingredients
2 cups garbanzo beans
1/4 cup chopped white onion
1 tablespoons dried oregano
2 garlic cloves, minced
1 tablespoon ground cumin
1 tablespoon olive oil
kosher salt
Directions
Mash all ingredients together coarsely and heat.
Roasted Corn Salsa
Adapted from Roasted Corn Salsa.
2 medium ears sweet corn in husks
2 medium tomatoes, chopped
1 small onion, chopped
2 tablespoons minced fresh cilantro
1 tablespoon lime juice
1 tablespoon finely chopped green pepper
1 tablespoon finely chopped sweet red pepper
1 teaspoon minced seeded jalapeno pepper
1/4 teaspoon salt
Pepper, to taste
Directions
See This Post for details and images on grilling corn on the cob. Peel back husks of corn, remove silk. Fold husks back up. Place corn in a bowl and cover with water; soak for 20 minutes. Drain. Grill corn, covered, over medium-high heat for 20-35 minutes or until husks are blackened and corn is tender, turning several times. Cool.
Remove corn from cobs and place in a bowl. Add tomatoes, onion, cilantro, lime juice, peppers, salt and pepper. Yields about 2-1/2 cups.
Optional toppings: cheese (cow's or vegan), lettuce or cabbage strips, avocado, diced jalapenos
Serve family style or wrapped in tortillas of choice.
The Results
Wow. Seriously why have I not tried refried chickpeas before. They're practically already done straight from the can (I usually put diced onion and garlic in with my chickpeas) and they are super delicious. I mean, hummus is yummy, but this is an awesome variant. I think these burritos would be great with standard pinto or black bean refried beans, also. The salsa was also fantastic. I LOVE grilled sweet corn. Yum.
This post shared at Fat Camp Friday, Crafty Friday, Friday Favorites, Potluck Friday,·Frugal Fridays, Foodie Friday and I'm Lovin' It.
The Super Easy Vegetarian Slow Cooker Cookbook
Want vegetarian and vegan recipes you'll love? Check out my first cookbook! I'm so excited about it and I hope you'll love it. You can find more information about it right
HERE
.