As an Amazon Associate, I earn from qualifying purchases.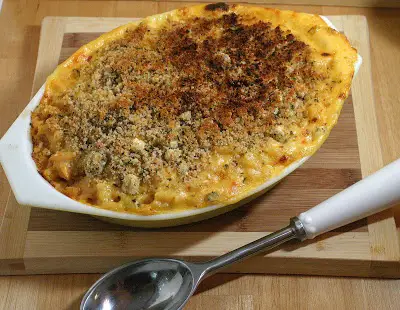 Natural Cheese Macaroni
I was asked recently to test the taste difference of all natural cheese versus processed cheese. This is a test that's right up my alley. When I was a kid, I loved processed sliced cheese. As I've grown up, I've obviously branched out into more flavors and gravitated toward natural cheese slices and shredded cheese. I also strive to use whole foods whenever possible, so real cheese is what I gravitate to, in spite of the childhood memories of deliciously creamy processed cheese. But the ultimate test of cheese, in my opinion, is Mac and Cheese.
Processed Cheese Macaroni
I also used to love boxed mac and cheese; the kind with the powder package. Slap some sliced cheese on top and melt it and that was heaven, especially in the budget-constrained college days. I was already planning on making real homemade Macaroni and Cheese today. So, today, I made both: Homemade Macaroni and Cheese with a blend of Sargento cheddar and pepper jack cheeses and Macaroni with an American cheese sauce.
I thought that I would like the processed version, just in a different way. That, perhaps, it would remind me of that guilty pleasure boxed variety. But I cannot fully express the difference in the two Mac and Cheese meals. The natural cheese meal was creamy, delicious and tangy, while the processed version tasted plasticky and lifeless. I was actually shocked when comparing the two side-by-side. I really expected to like both recipes for different reasons. It takes a little more time and effort, but the natural cheese sauce is definitely the way to go.
This post is shared with Real Food Wednesday


As part of the Foodbuzz Tastemaker Program, I received Sargento Cheese to perform this taste test.
The Super Easy Vegetarian Slow Cooker Cookbook
Want vegetarian and vegan recipes you'll love? Check out my first cookbook! I'm so excited about it and I hope you'll love it. You can find more information about it right
HERE
.