As an Amazon Associate, I earn from qualifying purchases.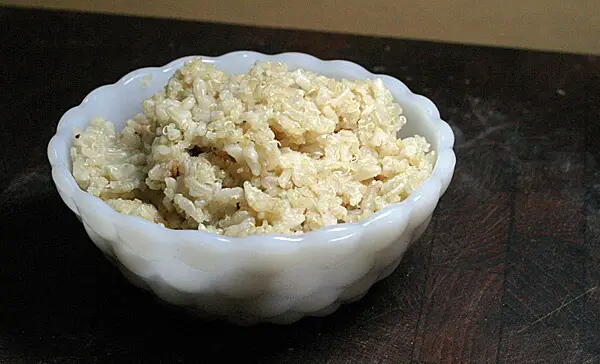 Quinoa and Brown Rice blend is a stupid simple recipe that for some reason I just hadn't thought to make until recently. We were trolling through our local wholesale club and the kids, as usual were on the hunt for tasty samples when I came across one they could actually eat! Organic brown rice and quinoa blend. They went crazy for it! We've had a bit of a problem previously because, while Bug loves rice and Goose loves quinoa, neither will eat a ton of the other on its own. And this blend, they BOTH ate with gusto. Win!
But, I saw no reason to buy the premixed bag of quinoa and brown rice (even though I'm sure that'd be super convenient because if I recall it was 90-second microwave packs). Instead, I jotted it down in my memory bank to mix up at home. It was so simple I have no idea why I didn't think of it myself!
Quinoa Brown Rice Blend
Ingredients
1 cup quinoa, raw
1.5 cups brown rice, raw
2 cups Easy Slow Cooker Vegetable Broth
3 cups water (or appropriate amount for your rice cooker)
Method
Place all ingredients in rice cooker and cook on white rice setting.
Serve.
Alternately, you can prepare…
The Results
A HUGE hit. And a great lunchbox addition.
This post is shared with Real Food Wednesday, Whole Food Wednesdays, What's Cooking Wednesday, Works for me Wednesday, These Chicks Cooked and Bake with Bizzy, Hearth and Soul Hop.
The Super Easy Vegetarian Slow Cooker Cookbook
Want vegetarian and vegan recipes you'll love? Check out my first cookbook! I'm so excited about it and I hope you'll love it. You can find more information about it right
HERE
.