As an Amazon Associate, I earn from qualifying purchases.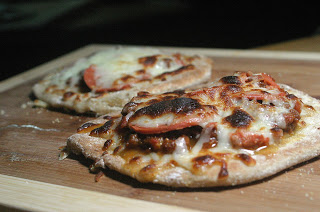 Day 238.
I just love my friend Pam's kid-friendly recipes. She's so creative and they're always simple for kids to help make (not to mention that they love to eat them). This pita pizzas recipe is one of those "Duh, why didn't I do that already?" kind of things for me. I've made Bagel Pizzas, Buffalo Chicken French Bread Pizzas and Pizza Bagel Bites, but never pita pizzas. It's definitely a winner whether you make your own pitas or not. I've been meaning to try my hand at pita bread for a long time, so I used this yummy recipe as an excuse.
Pita Pizzas
Ingredients
Directions
Spread flat pita bread with pizza sauce. Sprinkle with desired pizza toppings, then cheese. Broil 5 minutes, until cheese is melted and bubbly. 

The Results
These are really yummy. And so simple. We actually liked ours best with just plain pasta sauce. The bolognese was a little too complex for the simple pizzas.
This post shared at Fat Camp Friday, Crafty Friday, Friday Favorites, Potluck Friday,·Frugal Fridays, Foodie Friday, Fresh Food Friday and I'm Lovin' It.
The Super Easy Vegetarian Slow Cooker Cookbook
Want vegetarian and vegan recipes you'll love? Check out my first cookbook! I'm so excited about it and I hope you'll love it. You can find more information about it right
HERE
.